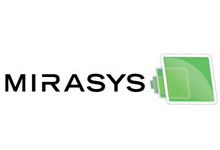 Mirasys X-Series supports CCTV monitoring across the Council's disparate, hybrid CCTV infrastructure
Mirasys Ltd
, a leading provider of open platform digital CCTV and video surveillance solutions, announced that Bedford Borough Council has implemented Mirasys X-Series to support CCTV monitoring across its disparate, hybrid CCTV infrastructure. The solution streams video footage and still images of Bedford Borough Hall from analogue, IP and HD cameras via fibre optic and WiFi links to one central control room at Bedford CCTV, providing high-quality images around-the-clock while reducing the amount of manned guarding required at each site.
The Silas Group completed the implementation in a period of just three weeks and the Mirasys software and hardware solution now supports six IP and 14 analogue cameras at the Bedford Borough Hall site which is head office to Bedford Borough Council. The IP cameras provide HD-quality images which have improved the clarity of surveillance in building, as well as providing effective CCTV monitoring around a walkway at the back of the Hall which had been prone to loitering and other anti-social behaviour. This has helped improve public safety as the previous legacy system had been unable to monitor image data in low-lighting conditions and the extraction of footage for forensic evidence had been almost impossible. This is no longer an issue due to Mirasys' one click media clipping and data watermarking capabilities.
Since installing the IP-ready system, Bedford has fitted five WiFi CCTV camera links in the town centre area
By connecting the Mirasys systems at both Bedford Borough Hall and the Borough Council's CCTV centre via a fibre optic cable, remotely-based authorised surveillance users are now able to view live image data across both sites. This has reduced the hours that management and security staff at Borough Hall are required to spend on-site, leading to cost savings and improved monitoring efficiency.
The hybrid Mirasys system has also allowed Bedford to future-proof the council's surveillance infrastructure; since installing the IP-ready system, Bedford has fitted five WiFi CCTV camera links in the town centre area which are also monitored centrally through the control room. These IP links have avoided costly fibre optic cable rental, further enhancing the cost efficiency and quality of service that Bedford County Council's CCTV infrastructure can provide.
Chris Mears, Facilities Manager at Bedford Council explained:
"The legacy system was difficult to use and image quality was poor, which meant that monitoring CCTV was problematic, particularly if we needed to extract data for forensic investigations. Now, surveillance staff can simply access data from both sites, whether that is from live or recorded streams, to ensure that council areas remain safe and provide no risk to the public."


Kevin Burraway, Director at the installer company, Silas Group, (
Ace Fire & Security Systems Ltd
) added:
"Bedford needed a solution that could not only improve the quality of CCTV images, but also support and maintain a disparate, hybrid infrastructure both now and in the future."
Jukka Riivari, Chief Executive Officer at Mirasys summarised:
"Mirasys provides a range of solutions for users who work with multiple locations and need a cost-effective user-friendly system that allows them to remotely monitor their facilities. Increasingly, customers are finding that hybrid systems offer this kind of flexibility while facilitating the move towards IP cameras and fully digital systems."
Download PDF version