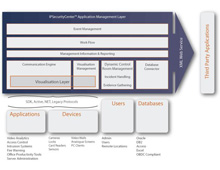 Universal Security Systems select IPSecurityCenter™ to supply security management control system
Computer Network Limited (CNL)
announced recently that they have been selected by
Universal Security Systems
to supply a security management control system that will integrate CCTV, Access Control, VoIP, GPS Tracking and Tetra Radio Transmission to the Kuwait Council of Ministers for the protection of critical facilities in the oil sector.
One of these critical oil facilities is responsible for the refining of a large proportion of Kuwait's oil supply. This immense project will create the flagship Kuwaiti control room. Due to the scale of the project, implementation will take approximately six months. It will involve integrating both new and existing security infrastructure. Paul Mangham, Managing Director of Universal says: "We chose systems from a range of leading technology manufacturers; at every stage we made sure we were using the best available technology. This was always going to be a no compromise flagship project, which is why we selected IPSecurityCenter™ to form the platform, bringing all of this technology together in the best way possible."
Other manufacturers involved in the project are Lenel for access control systems, Grintek for the perimeter fence, Complus Teltronic for their VoIP and Electrosonic for the video wall.
Keith Bloodworth, CEO of CNL says: "This is another example of IPSecurityCenter being deployed in a strategic security project. Using both the broad integration capability coupled with the high end management functionality of IPSecurityCenter, Universal will deliver a tightly managed solution to the client."
Download PDF version