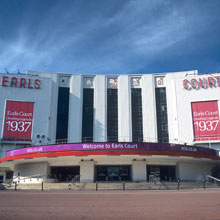 Verint's encoders, IP cameras and video management software have been installed at Earls Court & Olympia
Destination 2012

'World famous' is a phrase that is often over-used, but few would deny Earls Court & Olympia that status as the venue for some of the world's most illustrious sporting occasions, most notably, perhaps, the London International Horse Show.
And it is not just in sport that the venue continues to provide entertainment for millions of visitors each year. It also plays host to famous events, from the Ideal Home Show to the new Masterchef Live, and its halls have resounded to performances from world-famous artists including Madonna, Elton John and The Rolling Stones.
It is perhaps because of its ability to adapt to different occasions and different audiences that Earls Court has also been chosen as the venue for Olympic Volleyball and will be turned into a 15,000-seat arena ready for the London Games in 2012.
This same sense of adaptability and flexibility has been extended to its security. With thousands of athletes and spectators coming to the city, ensuring that the selected venues have the state-of-the-art security systems in place to ensure the safety of athletes and spectators is a key priority across the capital.
Migration strategy


To this end, Earls Court & Olympia (ECO) Venues has been working closely with its partner,
Verint
, in accelerating the migration of its legacy analogue CCTV system to digital using Verint's
encoders
,
IP cameras
and
video management software
. This, it is hoped, will extend the success of its existing Verint video solution, as Brian Jones, Senior Facilities Manager explains.
"EC&O has been working in partnership with Verint since 2007,"
he says,
"when Verint's Nextiva® IP video solution was originally specified and installed by Verint partner Computer Network Ltd (CNL)."

"Since then, the installation has been expanded, but it was important in moving over from analogue to digital that the new technology installed was still able to integrate with our legacy systems,"
he says.
"Verint worked very closely with us in ensuring this could be achieved."


The CCTV system, now maintained and upgraded by Fire Integrated Systems (FIS), is designed to protect the main perimeter of the Earls Court and Olympia buildings, as well as surveillance inside the main exhibition halls. The flexibility of the system is such that cameras can be easily moved or added if the layout of the exhibition floors is changed. More than 200 cameras have been installed in total, with images managed and stored via the Verint Nextiva software.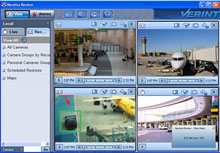 Verint's Nextiva multi-port encoders with H.264 provide significantly more compressing power
Since the original Verint technology was deployed, further upgrades have been developed with enhanced scalability and improved bandwidth. In preparation for 2012, EC&O is now testing Verint's new encoders and decoders utilising the latest H.264 compression algorithms. H.264-enabled solutions deliver a 25% - 60% reduction in bit rate, with higher quality video and lower network bandwidth and storage use. Nextiva solutions in particular also require fewer servers and external storage arrays - all that can add significant cost in a video management solution.
Compression power


Verint's Nextiva multi-port encoders with H.264 for example, provide significantly more compressing power and several enhancements over previous versions with MPEG-4 SP and SM4 encoding technologies, according to David Parcell, Managing Director of Verint Systems EMEA.
"These next-generation Nextiva encoders are optimised to provide outstanding video quality at exceptionally low bit rates,"
he says.
"In addition, they are sustainable and environmentally friendly, with a 25% weight reduction to help diminish carbon emissions produced during shipment, very low power consumption and an external ENERGY STAR® qualified power supply."


Brian has been quick to recognise the benefits.
"Better compression rates delivers greater storage capability and improved image quality,"
Brian adds.
"Retrieval of images in the event of an incident is immediate, and Nextiva is proving very popular with our control room operators who have commented on its ease-of-use. They are particularly impressed with the easy-to-operate playback, which has made sitting through hours of footage a thing of the past."


EC&O is also now testing Verint's IP-rate Power-over-Ethernet cameras, and hoping to test Verint Traffic Analysis Solution to count and track people through the venue.
"We have stringent health and safety procedures to follow and must always have an accurate idea of the numbers of visitors on our premises at any one time,"
Brian says.
"With all eyes on London for the 2012 Games, safety and security is a major focus for every site,"
says David.
"Advanced video technology, such as that at EC&O, has a key role to play in assisting venue security officers and Police to make this major city safer,"
he concludes.
Download PDF version