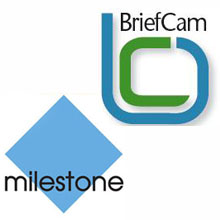 BriefCam's Video Synopsis™ technology, integrated with the open platform Milestone XProtect™
BriefCam Ltd.
, a unique provider of systems for video synopsis and indexing of surveillance camera content, announced an integration partnership with
Milestone
, the leading open platform company within IP video management software. Users of Milestone
XProtect
will now be able to utilise BriefCam's first-of-its-kind technology, which allows for one day of surveillance camera footage to be summarised into as little as a few minutes, enabling the rapid review and indexing of captured video.
BriefCam's Video Synopsis™ technology provides a summarised video clip of the original full-length video footage. The synopsis is made possible by presenting concurrently multiple objects and activities that have occurred at different times. Clicking on any individual object or event in the clip invokes the original unabridged video for targeted review.
With affordable video summarisation, BriefCam enables the rapid review of captured video to assess reported incidents and occurrences, as well as the uncovering and discovery of incidents that may never have been exposed in the past due to the high cost of manual video review.
Milestone XProtect IP video management software provides a powerful platform for easy-to-use, best-of-breed surveillance solutions, handling unlimited numbers of cameras, servers, users and sites. The open architecture and strong Milestone business model are creating a growing base of Milestone Solution Partners,
BriefCam's Video Synopsis™ technology integrated with the open platform Milestone XProtect™ condenses 24 hours of CCTV footage into a few minutes.
engendering even more comprehensive implementations with integrations that include analytics, access control. Point-of-Sale, building management systems, etc.
"No matter the size of installation, however, any video system operator can now benefit from saving time when reviewing video recordings, thanks to this Briefcam integration with Milestone. Redefining the possibilities of how stored video can be used, BriefCam has made a truly unique solution for summarising stored video streams," stated Martin Kaufmann, MSP Program Manager at Milestone Systems.
"BriefCam is thrilled to be working with Milestone to provide top surveillance technology for security professionals," said Gideon Ben-Zvi, chairman and president of BriefCam. "BriefCam's technology is key to giving security personnel, retail managers, homeowners and others the ability to react faster and more efficiently in managing their security needs. We look forward to working closely with Milestone in giving people the tools they need to achieve rapid results."
Both companies are attending this week's IFSEC conference in Birmingham. BriefCam will be located in Hall 4, Booth F20. Milestone will be located in Hall 4, F140.
Download PDF version