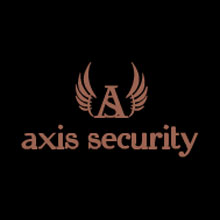 Axis Security officers are charged with patrolling the grounds, controlling entry and monitoring Komatsu's CCTV
Axis Security
, one of the UK's fastest growing providers of integrated security solutions, has secured the contract to provide
manned guarding
at Komatsu UK's manufacturing facilities in County Durham. The site employs nearly 600 people and covers approximately 202,000 square metres of land, where medium sized crawler excavators are produced.
Axis Security is to provide an around-the-clock presence at the facilities, with its officers charged with patrolling the grounds, controlling entry and monitoring its CCTV.
Axis Security, which acquired the incumbent provider
Temple Security
last year, secured the new contract on a seven way competitive tender, as Jackie Lowe, HR Officer at Komatsu UK, explains:
"The changes in management that we had started to see since Axis took over from Temple was one of the deciding factors in awarding the contract. If these changes hadn't happened then Axis wouldn't have retained the business."

"They were not the cheapest, but they were the preferred company out of the seven that tendered,"
Jackie adds. Axis will be making changes to the security provision at Komatsu to include a replacement of the existing guard patrol monitoring system and trained reserved guards to cover the site.
David Riley, Commercial Manager, Axis Security North East, comments:
"We are committed to improving the on-site security service not just at Komatsu but at all the sites we protect. We have made great strides in the provision at Komatsu since taking over from Temple and we are really proud that our efforts proved to be key in retaining the contract."

Axis Security acquired Temple Security in 2009, and has since extended its manned guarding operation nationwide, with regional branches in Belfast, Birmingham, Bristol, Hounslow, Livingstone, Manchester, Newcastle and Rotherham.
Download PDF version