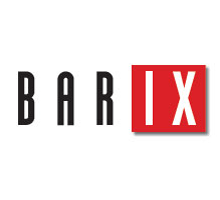 Barix surpassed the 100,000 device threshold for sales as part of a highly successful 2010
Barix AG, a pioneer in IP audio, monitoring, control and automation, announces it surpassed the 100,000 device threshold for sales as part of a highly successful 2010 that also saw major project wins and double-digit growth.

"2010 was a huge success for Barix," said Johannes G. Rietschel, CEO and Founder of Barix AG. "We passed a major sales milestone and experienced a substantial revenue increase. Barix contributed more than 1,200 devices to the largest Audio over IP project for live sound ever at a sports event in India, while securing key customer wins in security, transportation, healthcare and other markets."

Barix supplied the 1,200-plus Audio over IP devices for the Commonwealth Games in India last summer, handling IP contribution from all the venues to the control room; and distribution to a large number of broadcast studios. The company also continued to develop technology and business partnerships with key manufacturers for the purpose of delivering full IP system solutions to customers, notably in security and transportation.

Barix heads into June looking forward to several key trade shows, notably InfoComm 2011, taking place from June 15-17 at the Orange County Convention Center in Orlando. Barix, exhibiting at Booth 1425, will show three recent products to North American systems integrators and end users:
Exstreamer P5, the "IP Speaker without the Speaker," an amplified IP decoder with Power over Ethernet (PoE) capability that can turn nearly any 8-ohm speaker into an IP speaker.
Annuncicom 155, a ruggedised IP intercom and announcement device built to the EN50155 transportation standard for survival in harsh environments.
IPAM 100 Industrial, a hardened, coated version of the core technology module from Barix, allowing OEM customers to build Audio over IP and IP Intercom devices for use in harsh, challenging environmental conditions.
Download PDF version