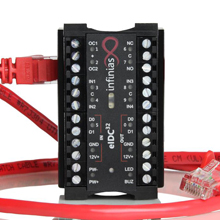 Mobile Credential extends capabilities of the infinias access control solution to user smart phones
infinias, an industry leading provider of IP-based access control hardware and software, introduced the company's new Mobile Credential solution at ISC West. Mobile Credential, which will be available in May 2013, extends capabilities of the infinias access control solution to user smart phones, delivering enhanced security and eliminating the need for physical proximity cards or other traditional credentials. Both Android and iPhone platforms are supported.
"The use of infinias' smartphone mobile credential, in place of traditional cards or fobs, adds a layer of security and flexibility for any organization," said Wayne Jared, Chief Technology Officer for Observint. "Unlike cards and other access credentials, people tend to be very aware of the location of their mobile phone. If a phone goes missing, the owner is aware of it very quickly, while the loss of a prox card could go unnoticed or unreported for days."
infinias Mobile Credential provides complete access control functionality, allowing authorized users to unlock doors from their mobile phone from anywhere they have cellular or wireless connectivity. As with any credential, users can only see or gain access to doors for which they have authorized access, and the credential is authenticated and the event documented by the infinias Intelli-M Access management software each time it is presented for use. If a phone is lost, or an employee terminated, the credential can be immediately "wiped" to eliminate the possibility of unauthorized access. In addition to added security and increased functionality, infinias Mobile Credential can eliminate the expense of purchasing, maintaining inventory, and replacing prox card or key fob inventories.
Since 2006, infinias' highly-scalable, PoE-powered access control solutions have been installed on more than 40,000 doors in schools, hospitals, municipalities, and industrial facilities throughout the world. Products feature Intelli-M Access, a powerful, browser-based access control management application, and the eIDC32 Door Controller, an Ethernet-enabled, PoE-powered, highly scalable door controller compact enough to be installed in a standard double-gang box.
infinias, an Observint Technologies portfolio company, is headquartered in Indianapolis, IN, home to all product research and development activities. Manufacturing, fulfillment, and logistical support for all infinias solutions are provided by Observint Technologies, from the company's headquarters in Austin, TX. Observint also provides comprehensive marketing, sales and technical support capabilities, including regional field sales managers, inside sales support, and system design engineers. Observint partners with a nationwide network of manufacturer's representatives, to provide local support of both direct and distribution partners.
Download PDF version