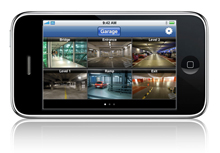 Users are able to view multiple live video feeds from anywhere on an iPhone or iPod touch simultaneously
Lextech Labs
, leading mobile application company, and
Milestone Systems
, developer of open platform IP video management software, announce the integration of the mobile surveillance iPhone application iRa Pro with the
Milestone XProtect Enterprise
server.
With iRa Pro, users view multiple live video feeds from anywhere on an iPhone or iPod touch simultaneously, and directly control physical camera positioning. For Milestone customers, the integration means availability of a comprehensive mobile surveillance solution and an intuitive interface for remote situational awareness.
The XProtect Enterprise open platform technology exponentially expands the list of iRa Pro's compatible cameras and appeals to users in markets that are heavily dependent on new and existing camera infrastructures utilizing XProtect Enterprise IP video management.

"XProtect Enterprise users will get more out of their investment by adopting iRa Pro. iRa Pro makes XProtect Enterprise more attractive to mobility focused clientele by offering the first compelling mobile surveillance experience. It requires very little training and due to seamless integration, the set up with XProtect is a breeze," said Alex Bratton, President & CEO of Lextech Labs.

"iRa Pro from Lextech adds unique and very user friendly mobility functionality to the Milestone XProtect suite of products utilizing our one-of-a-kind open platform technology," said Eric Fullerton, Chief Sales & Marketing Officer of Milestone Systems.

Lextech Labs will demonstrate iRa Pro at the Milestone Integration Platform Symposium in February.
Download PDF version