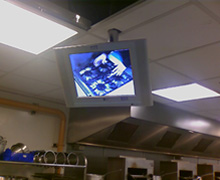 ecl-ips deploys Mobotix CCTV solution to help Worcester College of Technology serve up a better food preparation course
MOBOTIX AG
, a leading manufacturer of digital high-resolution, network-based video security systems has released details of an innovative installation of its MOBOTIX CCTV solution which is improving the ability of lecturers to deliver food preparation courses to catering students at Worcester College of Technology. The implementation carried out by MOBOTIX partner
ecl-ips
, uses a pair of 3 megapixel MOBOTIX cameras positioned over cooking and food preparation areas with a live feed going to individual monitors above each students work area
.
The solution allows students to follow the practical steps in the food preparation course from their own workstation and is supported by a feed from desktop PC to allow additional course material such as recipes, diagrams and even pre-recorded video to be played by the lecturer during each lesson. The system can also record entire lesson with students able to access them offline or to help them practice at home.
As Evan Whakahau, a network engineer for the College explains, "We had originally tried to use an analogue system but the low quality made it unusable and the location of the cameras directly above hot and smoky cooking areas also proved challenging."
Evan contacted MOBOTIX directly for an evaluation unit and, after thorough testing, contacted ecl-ips, a local MOBOTIX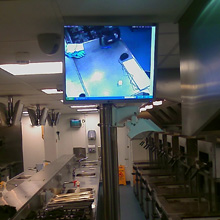 Mobotix solution allows students to follow the practical steps in the food preparation course
Advanced partner for a quote. "
The camera offered both the quality and reliability necessary for the kitchen area, ecl-ips carried out the entire installation in 3 days and the system has been up and running ever since,
" Whakahau explains.
The system uses MOBOTIX D22 and M22 IP cameras without any external housing connected directly into a switch on the college's network. The lecturer logs onto the PC housed under his workstation and can then access the camera feeds via shortcuts on the desktop or a 'keystrip' which is easier to use than a mouse and keyboard whilst working with food. The lecturers monitor is mounted on a pole in front of his workstation (with the M22) and its image is fed to a splitter, which distributes it to LCD screens at each of the 8 student areas in the kitchen.. Due to the awkward location, ecl-ips also manufactured custom brackets for both the LCD screens and cameras.
"The system has proved very popular and improves the learning process for the students and based on its success, we are looking at using similar system within other lessons such as car mechanics and building and construction courses," Whakahau adds.
Download PDF version