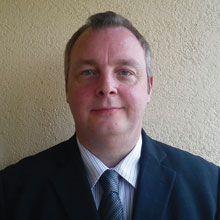 Mark Blackwood to new role of UK Sales Manager for PECAN CCTV
Pecan CCTV
has appointed Mark Blackwood to the new role of UK Sales Manager. In addition to offering customers the benefit of high standards of service and support, Mark will also be making the most of Pecan's ability to supply bespoke solutions and develop new business opportunities.
Born in Liverpool, Mark started his career in the photographic business selling top-end cameras and broadcasting equipment for edit suites which led to his interest and involvement with CCTV. Over the past eighteen years he has gained extensive experience and invaluable product knowledge progressing from Sales Representative to Area Manager, Regional Manager and National Sales Manager for some of the industry's major players.
Mark told us "I wanted to put my career back on track and work for a reputable company with a different product sector and mix. Rather than continuing to simply compete for business based on the price on the box I was looking for a new challenge and a different role that would involve working with distributors as well as installers. I was attracted to the position at Pecan because of their reputation as a very professional company who are committed to looking after their customers - and the opportunity to become more involved in developing new products."
"In addition to the technological aspects of the job the thing I enjoy most about being in the CCTV industry are the longstanding relationships - and in many cases friendships - I've developed with customers over the years. Customers know that if a demo is required then I'm available and I'll be on hand to give them all the help they need throughout the entire buying process - from specifying the equipment through to purchasing, delivery and after sales support."
"I was attracted to the position at Pecan because of their reputation as a very professional company who are committed to looking after their customers"
"
Having years of experience and product knowledge are a big benefit but the ability to maintain a consistently high level of service is a major factor for me. It's not just a case of selling a box but keeping a reputation for not letting customers down so they can be confident that we will always deliver what we promise. I'm really enjoying my new role with Pecan and looking forward to a long and distinguished career with the company
."
Director, Jess Johns, added "We're delighted to have Mark on board. Initially Mark will be looking after the North of England sales area but will soon become more involved in developing new markets and helping to identify new products to meet the needs of our customers."
"I see Mark's role as an investment in the future of Pecan CCTV. His appointment provides further evidence of our ongoing commitment to continually strengthen our sales capability to support customers throughout the UK with exceptional levels of service and technical expertise."
Mark lives in Yorkshire with his wife of 26 years and three children, Kylie (24), Corinne (23) and Taylor (17). An ex amateur rally driver Mark is also an avid Formula 1 fan whose ambition is to watch each of the Grand Prix races around the world.
Download PDF version