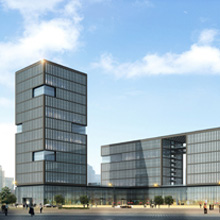 The new premise covers R&D, sales, administration, and manufacturing departments

Dahua Technology, the leading video surveillance solution provider, moved to a new corporate base in Hangzhou. The new premise covers an area of 100,000 square metres, housing R&D, sales department, administration as well as manufacturing facilities.
The company's product portfolios include advanced series of front-end, back-end, display, software and intelligent traffic solution. Furthermore, Dahua keeps on investing and building strong R&D capabilities for new technology and innovation. In addition to the strong financial support that accounts for 10% of sales revenue, the new premise provides R&D with more space for expansion and more advanced research facilities. As for the output, its monthly capacity approximates 400, 000 units.
"The relocation is a milestone as well as a fresh new start for Dahua," said Fu Liquan, President of Dahua Technology. "Taking this opportunity, we would like to extend our sincere gratitude for the long-term and firm support from customers and suppliers. As a world-leading corporate, we commit ourselves to offering the state-to-art products and services, the outcome we accomplished over the past years is quite inspiring, and we will keep this strong momentum and go beyond."
Download PDF version
Download PDF version