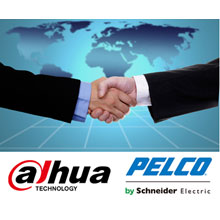 Dahua has integrated its full range of NVRs with Pelco's network cameras
Dahua Technology CO. Ltd., has officially announced the integration of its full range NVRs with Pelco's network cameras including Sarix Mega-Performance Cameras (IX, IM, ID series cameras), Spectra IP High Definition cameras, and multi-channel Network Encoders.
Dahua has enriched its NVR portfolio to three series, namely, Super Series, Desktop Series and Vertical Series. The Super NVR DH-NVR6000 allows maximum 128ch IP camera inputs. The unit also supports RAID0/1/5, which is especially suitable for large-scale applications. As for conventional 4/8/16 channel NVRs, Dahua has introduced NVRs with built-in PoE ports models, for example, the recently released Dahua 2 HDD PoE vertical NVR32XXV-P. Featuring smaller dimensions and compact design, this model series is suitable for general households, SOHO and other smaller and medium sized applications. And the built-in PoE ports special design and Plug&Play function not only simplifies installation at lower cost, but also enables users without professional knowledge to utilise the device.
On the other hand, Pelco by Schneider Electric is a world leader of video security systems with ensured quality. Pelco manufactures the most respected offering of IP cameras, discreet security camera domes and enclosures, video matrix systems, virtual matrix, next-generation DVRs, full HD LCD displays and HD megapixel cameras, video management software and so forth. "Pelco's commitment to open architecture and interoperability is matched with Dahua Technology, who share our passion for providing best in class interoperable video solutions" said Stuart Rawling, Director of Partnering and Integration, Pelco by Schneider Electric. "Our collaboration with Dahua Technologies provides security personnel new options for deploying world class video management systems built around Pelco cameras and Dahua Technologies recording and management platforms".
"Nowadays, the video surveillance market is growing, with increasing demand from customers, and Dahua is making an effort to integrate with global brands to meet various product demands and expectations," says James Wang, Dahua overseas product director, "As a sought-after player in the video security industry, Pelcowell matches our strategy, along with the benefits brought to mutual customers, we are confident that the cooperation is leading us to a win-win situation."
Download PDF version