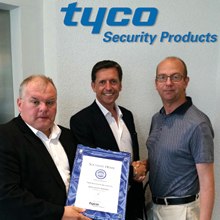 With this certification, Total Security Protection and Universal Security Systems join the C•CURE Partner Program
Software House, part of the Security Products business unit of Tyco, is pleased to announce that two systems integrators in the UK have achieved Enterprise Level Certification, the highest level of certification and training on the Software House C•CURE Security and Event Management system.
With this certification, Total Security Protection and Universal Security Systems join an elite group of integrators as part of the C•CURE Partner Program who hold C•CURE Enterprise Level Certification. Installers who earn this highest level of certification have undergone a lengthy and highly technical training program on the C•CURE 9000 platform. C•CURE Partners must also demonstrate expertise in IT expertise and certifications including Microsoft and Cisco certifications along with skills in networking, SQL Server and database administration.
"Total Security Protection and Universal Security Systems have undergone an extensive training program and have proven their capabilities over the past two years in delivering and maintaining complex integrated solutions with C•CURE 9000 at the core," said Alan Riegler, Sales Director, Tyco Security Products, UK and Ireland. "With their Enterprise Level Certification, Total Security Protection and Universal Security Systems have positioned themselves to handle the most advanced, technologically-challenging projects in the industry."
Total Security Protection, a leading independent integrated security system company based in Watford, has built a reputation for using the latest security technology, for following high installation standards and providing outstanding aftercare service. The company has worked across a broad range of business sectors, including M&E, data centres and government sectors. Total Security Protection supports systems on a national and international basis.
Universal Security Systems, an established security systems integrator based in East London, serves a broad range of clients, including IBM, Standard Chartered Bank and the London Stock Exchange. It has won several prestigious industry awards, including the 'Integrated Security Solution of the Year Award' and 'Large Security Installer of the Year Award.' Its clients are primarily medium and larger sized organisations located in Europe or the Middle East who require protection for major, prestigious and/or multi-site property estates.
The C•CURE 9000 system provides a holistic, video-rich perspective of managing access control, video, and intrusion using a deeply embedded victor unifying client. victor is Tyco Security Products unifying solution that provides an integrator's customers with a unique management platform that links events from access control, video systems and other integrated applications through one feature-rich interface. Users can manage events through a PC, Web client, victor client or the new C•CURE Go mobile client.
Download PDF version