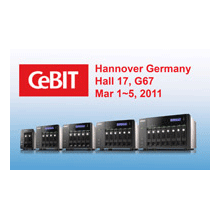 QNAP Systems Inc. will exhibit at CeBIT 2011, Hannover, Germany, booth at hall 17, G67, March 1-5 2011
QNAP Systems, Inc., a leading manufacturer of world class award-winning Turbo NAS servers, VioStor NVR Video Surveillance Systems, and Network-based Media Players is joining this year's CeBIT, the digital industry's biggest and most influential international event. QNAP will be showcasing the entire lineup of IP SAN Turbo NAS servers with the newest V3.4 management software, the ONVIF-conformant VioStor Pro Series network surveillance systems, and the high definition (HD) NMP-1000P network multimedia player. We sincerely invite you to visit us at CeBIT 2011, Hannover, Germany, Booth at Hall 17, G67, March 1-5 2011.

QNAP Turbo NAS Series
Powerful Intel® Atom™ Processor-based Turbo NAS

The TS-x59 Pro+ lineup feature the dual-core Intel® Atom™ D525 1.8GHz processor and can deliver blistering 113MB/sec throughput. The Pro+ lineup include energy-efficient desktop models with 2, 4, 5, 6, or 8 hot-swappable drives, and 4-bay 1U, 8-bay 2U rack-mounted units with available redundant power supply. All the Pro+ models include 1GB RAM, dual Gigabit LAN ports, enhanced iSCSI support, advanced RAID support, generous number of USB & eSATA ports for capacity expansion, and the broadest range of business-critical applications available from any NAS server provider.

The new Business Series TS-x59 Pro II servers feature SATA 6Gb/s hard drives support, two super-high-speed USB 3.0 ports, and an extra RAM slot for memory expansion. The models are all fully VMware and Citrix ready and Windows Server 2008 Hyper-V clusters compliant. The TS-x59 Pro II Series are the ideal storage for virtualization and IP SAN environment and offer abundant features such as dual Gigabit LAN ports, online RAID level migration, online RAID capacity expansion, printer sharing, web hosting, FTP server, and even network video surveillance.
The entry-level TS-x19P+ and TS-x12 Turbo NAS models are ideal for home/home office and small office use
Green NAS for Home and SOHO

The entry-level TS-x19P+ and TS-x12 Turbo NAS models are ideal for home/home office and small office use. Featuring Marvell 1.6GHz/1.2GHz embedded processor and 512MB/256MB of RAM, these 1, 2, and 4-drive desktop units deliver high performance and many of the advanced applications found on QNAP's higher end models, at price points that won't break the bank. The new TS-x19P+ and TS-x12 models also improve the multimedia experience and capabilities for home users. The built-in UPnP media server (TwonkyMedia) feature of the NAS supports numerous UPnP-compliant media players such as the Sony® PS3 and Microsoft® Xbox 360 game consoles. Users can even use their iPad, iPhone, iPod touch, and Android devices to stream music and video or view digital photos stored on the NAS in real-time from anywhere with a Wi-Fi or 3G connection.

The powerful management software V3.4

QNAP NAS management software is embedded as firmware in all Turbo NAS models and offers an intuitive interface for users to configure and manage their NAS. The latest V3.4 offers a wealth of new features including:
NEW Real-time remote replication, RAID 10 support, and ElephantDrive support for backup to the cloud;
NEW Advanced subfolder permissions, host-based permissions control, import/export of users, and virtual disk enhancements;
NEW MyCloudNAS remote access, wireless LAN and Virtual LAN support;
NEW Download Station V2, QGet V2, and advanced print server;
And more.....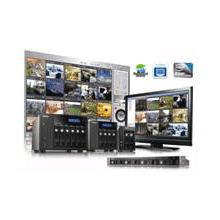 QNAP's VioStor Pro NVR Series are the world's first Linux-based network video recorders
NMP-1000P Network Multimedia Player

For audiophiles and AV enthusiasts, QNAP's NMP-1000P features the latest Sigma Designs® video/audio decoder that is capable of displaying ultra realistic full HD movies with advanced menu navigation, crystal clear next-generation Dolby® and DTS multi-channel surround sound, high-quality lossless music, digital pictures with background music, and other multimedia content. NMP-1000P is powered by a high performance Wolfson stereo digital to analogue converter for truly outstanding audio experience. The latest firmware brings the brand new Media Jukebox, which automatically scans your media library and download useful information such as movie covers, synopsis, genre, actors, and etc. for categorised views on TV and web. Users can also freely edit the media information or upload covers via web browsers. What's more? The new Web Remote allows playback control via web browser from anywhere.

Moreover, the NMP-1000P retains Turbo NAS functionality for backup of all networked computers, convenient cross-platform file sharing among Windows, Mac, and Linux/UNIX, multiple user accounts and access right management, and remotely access to media files with the built-in Web File Manager and FTP. NMP-1000P even streams tons of TV shows, news, podcasts, music, photos, and other contents from Mediafly™, Apple Movie Trailers, CNN, SHOUTcast, Internet radio service, Flickr, Picasa, and more.

Network Video Surveillance System (NVR) Pro Series

QNAP's VioStor Pro NVR Series are the world's first Linux-based network video recorders which support high-definition local display for PC-less network surveillance. The members include the 2-drive VS-2012 Pro/2008 Pro/2004 Pro, the 4-drive desktop VS-4016 Pro/4012 Pro/4008 Pro and rack-mounted VS-4016U-RP Pro/4012U-RP Pro/4008U-RP Pro, and the 6-drive VS-6020 Pro/6016 Pro/6012 Pro. All these models are ONVIF-conformant and work well with more than 1,000 IP camera models from over 40 professional brands. The channels can be monitored by IE browser, HD local display, and even via iPhone, iPad, or Windows PDA devices.
Download PDF version