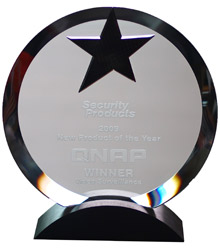 QNAP Security's VS-8040 has been honored the Winner of "New Product of the Year Award"
QNAP Security, a world class manufacturer of PC-less Network Video Recorder (NVR) solutions for the corporate security/surveillance market, recently announced that the VS-8040 has been honoured the Winner of "New Product of the Year Award" in the video surveillance category by Security Products Magazine. The award was announced last week at the annual ASIS tradeshow. Security Products Magazine's editorial focus is on "the outstanding product development achievements of security equipment manufacturers whose products are considered to be particularly noteworthy in their ability to improve workplace security". Ten winners were selected out of more than 60 entries in seven award categories.
"It is a great privilege to receive this significant award from Security Products Magazine," says Jacky Cheng, the Product Manager of QNAP Security. "This award has recognised QNAP's objective to provide outstanding network security solutions to secure the life and property of our customers."
The VioStor VS-8040 Network Video Recorder is a high performance video surveillance system that can simultaneously record video from up to 40 IP cameras on the network and is an ideal solution for large office buildings, shopping malls, or manufacturing facilities. The embedded surveillance system allows each channel of video recording to have its own monitoring parameters including continuous recording, motion detection recording, time-scheduled recording, alarm recording, and even pre-alarm and post-alarm recording. The VS-8040 incorporates Intelligent Video Analytics (IVA) allowing efficient video data search by foreign object detection, object removal detection, and camera out-of-focus or obstruction. Security personnel can also search the video data by date/time, motion event, or timeline. The multi-server monitoring feature is provided for monitoring up to 120 channels from multiple QNAP NVR servers. All the system configurations and video monitoring can be carried out easily by the IE browser. The VS-8040 contains up to 8 hard disk drives for hours and hours of video recording, RAID 0/1/5 data protection is provided. The VS-8040U-RP is a 2U rack-mounted unit with dual redundant power supply to provide higher system stability. It is also in the nomination list to the "New Product of The Year Award".
Download PDF version