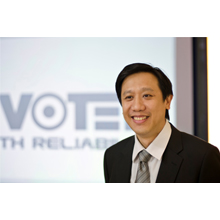 The 8000-series models include real-time H.264, MPEG-4 and MJPEG compression enabled
VIVOTEK PTZ-series and 8000-series network cameras are now integrated with CamTrace. Many of the 8000-series are VIVOTEK's celebrity cameras. While the IP8151 and the FD8134 were winners of Taiwan Excellence Award in 2010, the IP8161 was named one of the best PC3 Corporate Choice in the same year. All 8000-series models have real-time H.264, MPEG-4 and MJPEG compression enabled. Some of them come with 2-Megapixel sensors for wide-angle coverage. Some are capable of multi-streaming at 30 fps. Some others are known for Supreme Night Visibility.
Gilles Cohen-Dumouchel, President of CAMTRACE talks about his experience working with VIVOTEK, "I've enjoyed a great deal the relationship with VIVOTEK. Their technicians are always highly dynamic and attentive." According to Gilles, VIVOTEK's technicians respond promptly and always attend to questions precisely and efficiently. He also feels that VIVOTEK offers a lot more benefits than some other IP camera manufacturers.
"My experience with VIVOTEK has been pleasant and I've been satisfied with the high level of quality in optics and mechanic," Gilles said. "Cooperation between CAMTRACE and VIVOTEK will allow a lot of our system integrators to apply VIVOTEK cameras with CAMTRACE solutions." Gilles Cohen-Dumouchel."
CamTrace, a server manufacturer based in France, designs appliance servers comprising an all-in hardware and software package for utilisations ranging from small retail outlets to large corporate complexes. Their product line includes CamTrace Server, Light, Box and Microbox.
"It is our pleasure to partner up with CamTrace, as both of our teams worked tirelessly to deliver world-class security solutions," said William Ku, Director of Brand Business for VIVOTEK. "Together, we make the world a safer place."
The fisheye camera, FE8171V, is under integration process.
Download PDF version
Download PDF version