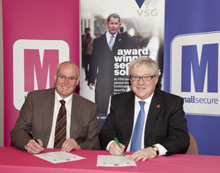 Bill Muskin, Chairman of VSG and Ken Ford, Chief Executive of The Mall, sign the MallSecure contract
VSG, the fastest growing supplier of manned guarding services in the UK, has won a major contract to deliver MallSecure, a national branded security service, at all 20 of the shopping centres operated by The Mall, which span the country from Aberdeen to Southampton. VSG had previously provided security for The Mall at seven of its shopping centres.
MallSecure will focus on providing a safe and secure shopping environment for its shoppers and retailers in a best value format.
"After a rigorous tender process VSG came out on top. We were impressed with their professionalism, high standard of operation and their strong pedigree in the shopping centre sector," said Alan Wiggan, National Facilities Manager at The Mall. "As a key provider of security services to The Mall, VSG has steadily increased the number of shopping centres under contract with The Mall over the last four years, building up a thorough understanding of The Mall business. This, coupled with their solid commitment to long term investment in customer service perfectly complemented the MallSecure objective to deliver a forward thinking approach to security."
Other factors that helped VSG to secure this important contract include the company's innovative commercial proposals, the introduction of fresh ideas for staff training and development, new thinking about ways to enhance security and safety at The Mall shopping centres, and enthusiastic support for the MallSecure programme. It was also readily apparent that VSG had capacity and resources that would easily meet the needs of the contract.
VSG has wide experience of providing effective and efficient security solutions for shopping centres, and prides itself on helping to provide a retail environment that is not only secure but also safe and comfortable for workers and customers alike. In some centres, including The Mall Bristol, VSG security officers have achieved accreditation under the Community Safety Accreditation Scheme (CSAS), which gives them enhanced powers to assist in their work, and also facilitates closer liaison with the local police.
Download PDF version