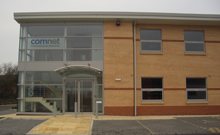 ComNet Europe Ltd established in United Kingdom to provide communication solutions to Europe, Middle East and Africa
Communications Networks of Danbury, Connecticut, doing business as
ComNet
, announces the opening of its first international office. ComNet Europe Ltd has been opened in Leeds, UK. This office will support the ComNet efforts in Europe, the Middle East and Africa. This office will contain the ComNet administration, sales, technical support, and customer care functions for that area. In addition, the ComNet Europe facility will stock and distribute ComNet products for Europe, the Middle East, Africa and Asia. This will significantly shorten delivery to customers through out the region. ComNet Europe Ltd will focus on providing connectivity and communications network solutions to the security, intelligent transportation and factory automation/industrial control markets.
ComNet Communication Networks was founded by George Lichtblau, who has been a recognized success in the Fiber Optic field since establishing the former International Fiber Systems in 1986 before being acquired by GE in 2003. ComNet USA began operations on June 1st.
The product line consists of fiber optic video, data and audio transmission products as well as a broad Ethernet product line, for use in CCTV, Access Control, Intrusion and Intelligent Transportation Systems.

Steve Clarke leads the ComNet Europe Team. Clarke previously was the head of GE Security's Fiber Optic (Fiber Options and IFS) product unit. His team is made up of proven performers from the communications and networking products industry, with a goal of providing competence and service to customers and will be introduced shortly. Jens-Uwe Ludwig, previously announced, will be assigned to the ComNet Europe office and report to Clarke. ComNet Europe has also added a presence in the Middle East with the addition of Imad Naja, formally the Regional Sales manager for GE Security Fiber Communications.
"ComNet will be a true resource for the customers who chose to partner with us," stated Clarke. "That is a successful philosophy that started with at ComNet USA and one that we plan to improve on at ComNet Europe." Many of the most significant and appreciated benefits are the high levels of pre- and post-sale technical support; design centre services and customer care available to every ComNet customer.
Download PDF version