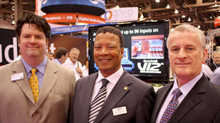 From left to right: Tim Penn (AMX),
Mike Blackman (ISE)
and Keith Watson (Harman)
Integrated Systems Events
is delighted to announce that Keith Watson has joined its Board of Directors. Watson, who is Marketing Director - Mixing for Harman's mixer business, Soundcraft Studer, joined ISE's Advisory Committee in 2009 and attended his first meeting of the Board of Directors during InfoComm last month.
The Board maintains three positions for representatives of ISE's exhibitors, each of whom serves a three-year period of office. Watson replaces Tim Penn of
AMX
, whose three-year term expired last month. Penn will retain direct involvement with ISE by remaining on its Advisory Committee.
After qualifying as a designer in Mechanical Engineering, Watson went through a series of Cranfield and Harvard business and marketing modules before joining Harman in 2003. His previous appointments spanned advanced design software for the aerospace and automotive sectors, and a spell working for a marketing and design agency. In his current role, he is responsible for all Soundcraft Studer product management and brand promotion, alongside multi-brand programmes with Harman sister companies AKG, JBL, Crown, Lexicon, dbx and BSS.
Mike Blackman, Managing Director, Integrated Systems Events, says Watson's appointment has added significance beyond merely ensuring that the voice of ISE exhibitors continues to be heard at the highest level.
"When ISE first started, professional audio played a relatively small role not just in our events but in the AV industry generally,"
Blackman explains. "Since then we have seen audio start to assume much more significance in the planning and implementation of AV projects across all sectors, and the number of pro-audio exhibitors at ISE has increased substantially year on year.
"We felt it was important to reflect this trend by appointing someone with a strong pro-audio background to our Board when Tim's three-year term came to an end, and Keith's position and experience made him the perfect candidate."
For his part, Watson adds:
"Like many other audio manufacturers, we at Harman have seen the growing influence of professional AV and systems integration on our business in recent years, and ISE has become increasingly important to us. I've enjoyed serving on the ISE Advisory Committee since 2009, and feel privileged now to be joining the Board of Directors as well. The next three years promise to be very exciting indeed."
Integrated Systems Europe 2011
will take place at the Amsterdam RAI, Netherlands, from 1-3 February 2011.
Download PDF version