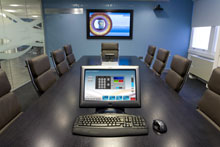 AMX's new fully equipped boardroom
AMX's new business centre in London, UK is using over thirty Chief® mounts and accessories throughout the brand new state-of-the-art product showroom, fully-equipped boardroom, training centre and offices, which opened in November, 2008.
"Chief's state-of-the-art equipment gives us flexible and effective communications throughout our new London showroom and office and reflects the very best in technology found in many of the highly innovative and advanced installations today. The Chief products ensure that we can effectively explain and demonstrate complete integration across all our product lines, to clients, dealers, consultants, architects and designers. It's also exciting to use the products of a sister company in the Duchossois Group of Companies," said Timothy Penn, managing director, AMX Europe.
Chief's MRSU low-profile flat panel fixed wall mounts are used to align multiple flat panel screens arranged in a video wall configuration. The 'Q-latch' feature allows the screen to be connected and disconnected without tools and gives the AMX service team quick access to cables and for servicing.
The PIWRF Series in-wall swing arm mount ensures that the plasma screens are flush against the wall. The innovative arm assembly completely disappears into the wall and showroom users can effortlessly pull out the screen and swivel it left and right for multiple viewing angles.
The PNR™ Series dual arm flat panel wall mounts are able to extend the flat panel monitors up to 35-inches away from the wall ensuring viewing from any angle. Monitors can be connected and disconnected from the mount without tools whilst still remaining secure. The monitors can be adjusted for height and can be moved left and right about 25 cm whilst still remaining connected to the wall.
With all these mounting solutions, screens can be mounted in either portrait or landscape position due to Chief's patented Q-Latch system.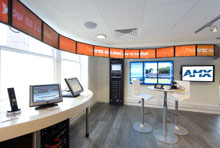 New AMX product showroom equipped by Chief®
And the last word goes to Melinda von Horvath, EMEA Sales Director at Chief Manufacturing who said that the installation marked 30 years of product and service excellence: "This was a fantastic demonstration of the way display technology combined with installer friendly features has advanced during that time and our latest products have answered AMX's needs very precisely."
AMX and Chief Manufacturing are members of the Duchossois Group of Companies. Chief is an industry leader in making and installing flat panel, LCD and plasma screens, projectors and wall mounts for audiovisual professionals, and for commercial and residential use. AMX's award-winning products span AV control and automation, switching, distributed audio and video, and technology management. As a Platinum Sponsor of ISE 2009, Chief Manufacturing will show these products as well as the FUSION™ Series fixed and tilt wall mounting solutions on stand #1F38 at ISE 2009 between 3 - 5 February 2009 inclusive at the Amsterdam RAI, The Netherlands.
Download PDF version