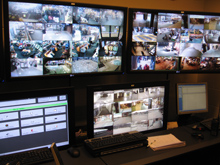 Lambeau Field selected NUUO surveillance system to monitor the national football stadium
The NFL stadium is home to the Green Bay Packers, winners of 12 league championships
The massive $295 million reconstruction was designed to update the facilities of the stadium and add more premium and suite seating, while preserving the famous and original seating bowl. The renovation project was completed in 2003, bringing the current seating capacity to 72,928. In order to prevent and control the damage caused by anti-social elements and to protect football fans, Lambeau Field selected NUUO surveillance system to monitor the national football stadium.
NUUO Hybrid system has assisted security personnel to monitor the 366,000-square-foot stadium
The centerpiece of the stadium is the Lambeau Field Atrium, a 366,000-square-foot, five-story structure. In order to monitor this large-scale field, the authorities decided to adopt NUUO hybrid system to support security personnel to guard the area. Replacing the previous system, which was of poor quality and of insufficient storage, the NUUO hybrid system integrates the older analog cameras with extensions to the new PoE IP cameras.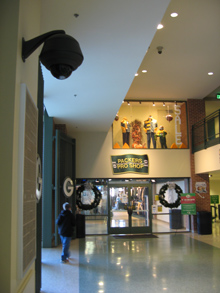 NUUO Hybrid system has assisted security personnel to monitor the 366,000-square-foot stadium
The NUUO hybrid system has increased the video quality to 5-15 frames per second and utilizes a low bandwidth and storage size in order to improve the archive storage from the previous 1 day on the old system to 2 months. NUUO hybrid system manages 150 cameras at a time, including 70 IP cameras, through HVR virtual matrix to 5 LCD monitors, which provides security guards with a clear and fast image, as well as assisting them immensely to ensure a safe environment throughout the stadium.
Remote live views to control incidents
NUUO software allows control centre to monitor and operate Panasonic IP cameras. Security guards can control the camera functions to pan, tilt, or zoom remotely. The function of remote live view enhances efficiency and improves security personnel's ability to control incidents and instant respond to any and all problems. NUUO CMS could help Lambeau Field to achieve overall security solution as a result of stable and open platforms. Multiple-monitor and flexible windows support, unlimited clients access, embedded remote playback application and 10 instant notification brings more benefit for Lambeau field and for football fans.
Download PDF version