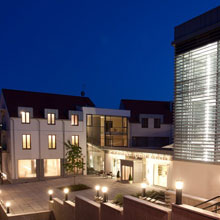 The Hotel chose SALTO's Aelement RFID hotel lock for its sleek looks and cutting edge design
Guests at the RRC Hluboká, a new 5-star hotel and spa complex located in the heart of South Bohemia in the Czech Republic, can now experience the latest in contactless access technology with
SALTO's
new
Aelement RFID hotel lock
.
The first hotel in Eastern Europe to install Aelement, the RRC Hluboká provides accommodation via 36 elegant and luxuriously appointed rooms where guests can relax alongside spectacular countryside, renowned for its famous 'Rustic Baroque' architecture, pine forests and innumerable castles and chateaux's.
For those wanting a more active stay, a comprehensive range of spa treatments is available as well as a swimming pool, aroma sauna, a Finish sauna, infrared cabins, a steam bath, a Kneipp spa and a cooling pool. This is complemented by a state-of-the-art fitness centre equipped to develop both strength and cardiovascular fitness simultaneously with the most modern strength-building equipment including running machines, cross-trainers, steppers and rowing machines.
Working in consultation with the architects and hotel owner, the installation was carried out by local SALTO business partner
EVVA spol s.r.o.
Martin Kopfstein from EVVA spol s.r.o. says:
"Aelement was the ideal choice for this project as it has been specifically designed for the hotel market, providing a fully integrated real-time security solution that allows hoteliers to combine their entire guest hospitality needs into one stylish, energy efficient and reliable wire-free locking system."

"We have now fitted 43 AElement units to the main guest room doors, 6 XS4 E9450 handle set units and 2 KPB02IM Panic Bars to the spa area and fitness centre, staff rooms and other back of house doors and 1 WRM9001 wall reader point for card updating."
Advanced security and convenient access management are the core values of AElement
Advanced security and convenient access management are the core values of AElement, and it features a wide range of advanced and innovative hotel management benefits including instant room move and instant extended stay abilities as well as lost card cancellation, intrusion alarm, door ajar alarm, remote opening, real-time audit trail, passage mode activation for meeting rooms and automated low battery reporting. It can control the security of the entire hotel from a single location including granting access privileges to individual guest rooms and gather audit trail data from every door in real-time - all without leaving the front desk.
"The security of our guests and their belongings is paramount,"
says Mrs Lenka Havlova, the Manager of the RRC Hluboká.
"We chose SALTO for their reputation as manufacturers of advanced technology security solutions to the hotel and hospitality industry and the Aelement product in particular for its sleek looks and cutting edge design."

"One of the great strengths of Aelement for our hotel is the fact that, thanks to its wireless DNA technology, it is wireless right out-of-the-box. At the moment we have gone for a 'Wireless ready' configuration where our guest room locks communicate with the server on a daily differed-time communication mode. In the future, when we are ready, we can simply switch to real-time "Wireless online mode" just by plugging in a USB-sized RF communication antenna. Fantastic!"

"This gives us the ability to continuously upgrade our security arrangements without having to upgrade our locks, saving us long term operating costs while providing the hotel with what it needs most - total control."
Download PDF version