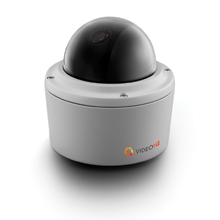 At IFSEC, VideoIQ showcased both iCVR and iCST CCTV cameras and encoders
VideoIQ
, the leader in video surveillance innovation, showcased its complete line of cameras, encoders and video management at
IFSEC 2010
including the iCVR D1 dome camera, iCVR-MP megapixel camera, iCVR encoder and VideoIQ ViewÔ video management system, plus the family of iCST streaming cameras and encoders designed for use in environments with central NVR storage and 3
rd
party video management systems. IFSEC 2010 was held May 10-13 at the NEC in Birmingham, UK.
Visitors to the Video IQ booth (Booth #H115) viewed the entire iCVR camera and encoder family, which deliver real-time threat detection while eliminating the need for external third party Network Video Recorders (NVR), Digital Video Recorders (DVR) and the bandwidth they consume. Features of the VideoIQ iCVR cameras and encoders include:
Proactive surveillance: VideoIQ's adaptive analytics uniquely identify people, vehicles and boats from objects, animals and scene movement, ensuring the most accurate real-time threat detection on the market.
Network efficiency: By storing video within the onboard NVR, iCVR cameras and encoders can continuously record at full resolution and frame rate - even megapixel resolution - using no network bandwidth. The overall system needs less than 10 percent of the bandwidth of megapixel and conventional IP cameras, allowing customers to deploy over existing networks, wireless networks and cellular connections. And as every iCVR continuously records, they are always ready to send real-time alarms when threats are detected, stream live video on-demand and perform sophisticated searches.
Simple installation: With fully integrated, onboard NVR storage and an advanced VMS, iCVR cameras and encoders eliminate the need for expensive centralised storage - reducing deployment costs, system complexity, infrastructure, time and resources. Additionally, VideoIQ's adaptive analytics automatically calibrate in minutes, further reducing installation time and resources. Customers simply need to mount a camera and connect the device to any network.
Open VMS integration: VideoIQ cameras and encoders are designed for use with both VideoIQ's View video management system (VMS) and with leading third party VMS systems. Drivers are available to seamlessly integrate VideoIQ products with VMS platforms from Milestone, OnSSI, Genetec, Lenel, VidSys and many others. Regardless of VMS, VideoIQ cameras and encoders come along with email alert delivery and browser-based access.

VideoIQ delivers the world's only system of cameras, encoders and advanced VMS with zero bandwidth recording and adaptive analytics


"The video surveillance market is quickly evolving to better protect against the growing physical security threats that exist across industries around the world," said Scott Schnell, President and CEO of VideoIQ. "At IFSEC, we will demonstrate how VideoIQ is able to deliver proactive surveillance with real-time threat detection, while reducing IT and physical security budget resources."

At IFSEC, VideoIQ showcased both iCVR and iCST cameras and encoders available in a variety of popular models:


iCVR dome cameras deliver all of the advantages of state-of-the-art wide dynamic range video, decentralised storage and state-of-the-art analytics in an elegant vandal-proof dome form, available in both indoor and IP66 rated outdoor models.
iCVR MP megapixel cameras set a new standard in high resolution surveillance with state-of-the-art image clarity, doubled analytic range, adaptive auto-tracking for live monitoring, and up to half a terabyte of zero bandwidth recording in each camera.
iCVR box cameras deliver the deployment flexibility necessary for specialised lenses, extreme temperatures and humidity.
iCVR encoders allow customers to take advantage of the simplified deployment and superior performance of VideoIQ's intelligent, decentralised architecture with specialised cameras such as thermal or PTZ or by upgrading their existing analogue cameras.
iCST streaming cameras and encoders provide customers with the flexibility to deploy VideoIQ's adaptive analytics in high bandwidth, centralised storage environments.
Download PDF version