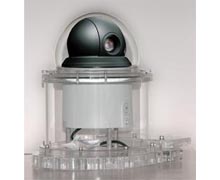 The underwater experience will be broadcasted live through Discovery's annual Shark Week
Discovery Channel and the Georgia Aquarium are teaming up to provide a live "fish-eye" view of a variety of sharks living within the world's largest indoor aquatic habitat, the Ocean Voyager.
Ocean Presence's
OPT-02HD AquariCam is now live within the Georgia Aquarium's shark tank. It offers a 360-degree panoramic live-stream of the underwater experience as provided by Discovery.com and the Discovery Channel. The live broadcast begins July 14 through Discovery's annual Shark Week, July 31 - Aug. 6, 2011.
Ocean Voyager at the Georgia Aquarium is the world's largest indoor ocean habitat containing more than six million gallons of saltwater. Built by The Home Depot, it was specially designed to house whale sharks, the largest fish species in the world. It has 4,574 square feet of viewing windows, a 100-foot-long underwater tunnel and is the second largest viewing window in the world.
Schools of jacks, squadrons of small and large stingrays, enormous goliath grouper and six different kinds of sharks including whale sharks, blacktip reef, spotted wobbegong, zebra, sandbar and sand tiger sharks circle in the spacious aquarium. In addition to four massive whale sharks, the Georgia Aquarium has two large manta rays, the world's largest winged creature. In 2008, Nandi was brought from South Africa to the Georgia Aquarium. With the addition of a second manta ray, the Georgia Aquarium is now the only aquarium in the United States to house two manta rays and is one of only four aquariums in the world that has mantas.
Discovery.com is the only Internet broadcast where manta rays and whales sharks can be viewed live.
They will also provide real-time chat with experts from within the Ocean Voyager. Shark Week, in its 24th year, will kick off July 31 and be hosted by Saturday Night Live's Andy Samberg.
Download PDF version