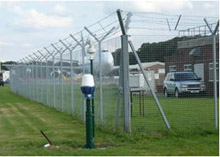 Dunsfold Park Aerodrome site deploys Radar Vision CCTV
Dunsfold Park, a large 600-acre aerodrome site near Guildford in Surrey that's home to a wide range of tenant businesses and the location for a variety of aircraft operations - as well as filming work including the BBC's popular Top Gear programme - is now being protected by
Ganz
's dual-purpose Radar Vision system. This combines compact, high performance radar detection with any Ganz C-AllView CCTV camera.
Nicky Stokes, Sales Director of specialist independent security integrator Integrated Security Design Ltd, which specified and installed the Radar Vision system, says it's proved ideal at Dunsfold Park. It provides early detection and monitoring of trespassers, along with 360°/second camera tracking. This early warning of potential intruders also allows security staff in the control room to make more effective use of their existing 16-camera surveillance system at the site.
Radar Vision is at the forefront of site detection and monitoring, yet the system can be installed and maintained with the minimum of fuss. Using event-driven image recording of the predefined target zone, it eliminates false alarms and reduces costs because operators no longer need to patrol grounds continually. "These benefits, combined with the 36x optical zoom capability of the Ganz AllView high speed pan/tilt camera allow the surveillance system to protect the multiple working in 420,000ft² of warehousing, industrial units and office space," Mr. Stokes comments.
"This installation shows how Radar Vision can provide a range of added benefits to existing cameras."
"They include Surrey Police, who carry out driver training on-site, and customer test track demonstrations of McLaren Mercedes' £345,000+ SLR Roadster cars, so appropriate levels of protection are required by our client Dunsfold Park Ltd, which is owned by The Rutland Group.
We approached Ganz because in addition to the Radar Vision system's operational capabilities we benefit from the company's flexible approach, pre-install design assistance, post-installation services and equipment reliability."
Integrated Security Design Ltd offers a nationally available turnkey package in terms of design, installation and maintenance of electronic security solutions including CCTV, access control, intruder alarms, as well as perimeter detection, intercoms and physical security measures such as door automation, turnstiles and barriers.
Commenting on Radar Vision's use at the high profile Dunsfold Park site, Ganz National Sales & Marketing Manager, John Downie, says "the system's flexible operational benefits include the ability to provide detection, monitoring, tracking and visual verification. This installation shows how Radar Vision can be retrofitted to an established system to provide a range of added benefits to existing cameras."
Download PDF version