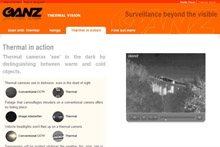 CBC unveiled special website dedicated to Thermal Vision system
CBC (Europe)
, manufacturer of the comprehensive
Ganz
range of surveillance options and complementary high performance Computar lenses, has unveiled a special website dedicated to its ground breaking Thermal Vision system provides a comprehensive online guide, explaining the all-round operational advantages of combining thermal imaging technology with the popular
Ganz C-AllView
optical camera.
This new website offers installers and end-users alike an easy-to-use introduction to Thermal Vision's integrated capabilities, which include the ability to detect a person at distances up to 1km using a combination of sophisticated thermal imaging and high resolution images. Helpful online pictures of the system use pop-up text overlays describing each camera element in more detail - such as its powerful 36x optical zoom lens, full 360º rotation and tilting head to eliminate blind spots.
Ganzthermalvision.com also includes an interesting video demonstration of the system tracking moving people and traffic in darkness, using its ability to view in both 'white hot' and 'black hot' modes (in which hot objects appear either white or black on-screen). The thermal camera is unaffected by rain, mist, fog and snow, making it the ideal choice for 24-hour surveillance, and visitors to the website can see the differences between conventional CCTV and the comparative advantages of thermal technology.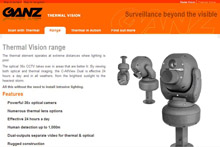 Thermal Vision Website launched by CBC
"Ganz Thermal Vision offers a further major benefit from its dual use for both security and fire detection, using the system's fully integrated thermal/optical unit to provide accurate temperature indication of fire or thermographic applications with extensive colour overlay options and temperature scale," CBC's Sales & Marketing Manager, John Downie, points out.
"A quick link to our other new website, ganzradarvision.com, also shows how coupling our radar units with the C-AllView dual optical/thermal camera provides a comprehensively capable system that can track intruders around the clock whatever the prevailing weather or lighting conditions."
Download PDF version