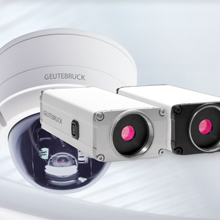 The Geutebruck TopLine series features Basler IP Camera models with CCD and CMOS sensors
German VMS (Video Management System) manufacturer GEUTEBRUCK and Basler have entered into a strategic partnership. GEUTEBRUCK's high-end TopLine series will now feature specially-designed Basler IP cameras on a project-by-project basis.
Basler specifically re-engineered selected IP box and dome camera models to complement GEUTEBRUCK's technology. The new cameras now integrate seamlessly into all GEUTEBRUCK digital recorder systems. The GEUTEBRUCK TopLine series features Basler IP Camera models with CCD and CMOS sensors, and resolution values ranging from 720p HD and 1080p Full HD to as high as 2 megapixels.
The IP cameras deliver high quality images of up to 30 frames per second, transmitted using H264CCTV compression that supports "unchained P-frames" to a GEUTEBRUCK digital recorder. This unique H264CCTV compression method delivers fluid movement on the video stream even when it is being run in reverse.
"The TopLine cameras offer more than just brilliant images and the finest grade of technical components. They are also deeply integrated into our video systems. Thanks to our H264CCTV compression method, these cameras have been specially designed for video surveillance use," says Heinz Schoon from the Product Strategy department at GEUTEBRUCK. "Our partnership with Basler, a company known for its modern camera production and extensive experience in the manufacture of IP cameras, ensures that our customers' high expectations for quality and functionality will be not just met, but exceeded."
"By deepening our existing cooperation, GEUTEBRUCK is offering its customers a complete and harmonised one-stop solution," explains Frank Mass, Key Account Manager at Basler. "The two companies are bringing together their extensive technological expertise to achieve the best possible positioning on the professional market for a quality, Made-in-Germany product."
The product line will be sold exclusively through GEUTEBRUCK's distribution network, with active support from the Basler IP Camera team.
Download PDF version