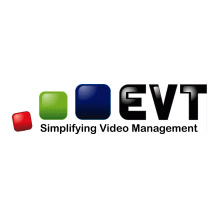 EVT Technologies, a developer of networked video management and recording software, recently announced the completion of its corporate identity change. The new identity is designed to better reflect EVT as a company that simplifies video management and provides the market with genuinely useful video surveillance solutions that solve real market needs, both for the integrators and end users.
In video surveillance sites, a major challenge is finding a way to efficiently and cost effectively manage and control systems with large amounts of live and recorded video, collected from many surveillance cameras deployed everywhere.
EVT's new corporate identity change included the launch of a new look website and new slogan. The slogan "Simplifying Video Management" illustrates the idea of EVT's unique product development approach to video management. This approach makes it easy for all levels of video operators and system administrators to effectively and simply command and control even the most complicated security sites, with unique tools such as, EVTs Image Content Navigation and 2.5D Live Video Maps.
EVT also announced that it has expanded its marketing, sales and customer support teams.
"Our customers are looking for market-specific, scalable solutions that make management of evolving and often complex video surveillance systems simpler and more effective than ever before," said David Keidar, general manager of EVT.
"The identity change reflects the company's commitment to offer the industry a fresh and unique approach to networked video management. The major aim was to let more people know that EVT understands changes in the market and provides the kind of solutions that so many companies are looking for."
Download PDF version