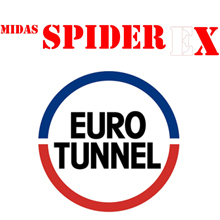 SpiderEx is useful in CCTV, Detection and Alarm systems as spiders like to create their webs on PIR's and Cameras
QED
, national distributor of security consumables, developed SpiderEx early last year. The product is an aerosol spray specifically formulated to deter spiders from any area it is sprayed. This is particularly useful in CCTV, Detection and Alarm systems as spiders like to create their webs on PIR's and Cameras.
SpiderEx has since been sold into the UK and Europe security market to help installers with what QED are billing as "one of the biggest causes of false alarms in CCTV systems".
Eurotunnel operate the Channel Tunnel, a rail link between the UK and France. They are a regular customer of QED for SpiderEx. They have had a big problem with spiders nesting and making webs on their cameras both inside and outside of the Channel Tunnel. Richard Howkins, Telecommunication and Control system services Manager at Eurotunnel commented: "We have been trialling SpiderEx for about six months in UK and France and have found it to be highly effective in reducing the amount of false alarms on our motion detection cameras."
As well as being a nuisance by causing false alarms in many security systems, Spiders webs can also block the field of vision of a security camera. This can be costly to resolve when equipment such as cherry pickers are required to clean the cameras. It may also result in poor images being recorded of an event of critical importance.
Matt Byrom, QED's Marketing manager said "SpiderEx has been an excellent product for us, we have exceeded sales estimates in the UK and have also exported to many countries in Europe". Matt continued: "As the weather is getting warmer, we are seeing a massive increase in demand again this year with almost all of our customers returning time and time again, proving the success of SpiderEx in the field".
Download PDF version