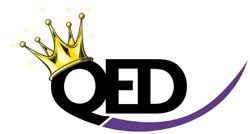 QED are making changes to give the installer what they want and need
The current economic climate is challenging most companies in the security industry to say the least!
QED, national distributor of Security Consumables, tell us how they have made changes to their brand to help service their customer base more effectively during these times.
Since formation in 1997, QED have distributed a range of security consumables and more recently security equipment, including items such as BNC Connectors and Cable all the way through to DVR's and CCTV Cameras. This approach has led QED to supply over 6,000 different products to the industry.
QED believe their image has been blurred through their offering to the market so they've made changes to focus their business on Security Consumables. Matt Byrom, QED's Marketing Manager says: "Consumables are what QED was built on and what we are best at. We are able to supply almost any First Fix Consumable product required for an installation, which makes buying an easy decision when installers are putting a project plan together."
Matt Byrom continued: "We understand that there are many companies in the market that offer security equipment. However there is nowhere else that you can buy the range of Security Consumables you can from QED. From Cable and Connectors to PSU's and Fixings, QED can offer everything an installer needs to actually fit a job."
QED say they are making these changes to give the installer what they want and need. "If companies know they can get all their First Fix Items from one place with one order, one delivery and one invoice, this simplifies their whole buying process and will help their company become more profitable," says Matt Byrom.
Many companies are changing in these times, QED are saying that this is simply giving them the opportunity to make changes for the better.
"With over 4,000 different security consumable items, QED have a great offering in this area, on price, quality and range. We see this as the main focus of our business going forward," comments Matt Byrom.
To re-introduce their business to the market in this new form, QED have adopted the tag line 'King of Consumables'. QED believe they are able to offer everything you need for your installation. Is QED the King?
Download PDF version