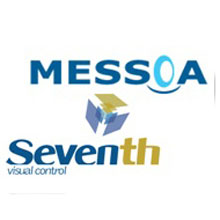 The partnership marked a giant leap for MESSOA towards fortifying its presence in South America
MESSOA Technologies Inc. is pleased to announce a strategic alliance with Seventh in a joint effort to provide integrated video security solution to Brazilian customers based on Seventh's VMS. The collaboration was brought together with the supportive effort by Bycon, MESSOA's channel partner. With the integration completed, end users and integrators will benefit from this seamless video surveillance solution.
Founded in 2001, Seventh is a fast-growing software company that has been a pioneer in the development of a wide range IP surveillance software. The video management system from Seventh dominated the professional applications in the local market due to their flexibility and versatile IP features, including customisable interfaces, intelligent search, and even LPR video analytics that make the software a highly accepted solution on the market. Thanks to the effort from Bycon, the integrated solution is now made accessible to customers adopting IP surveillance in Brazil.
The Seventh VMS is fully interoperated with MESSOA's complete network camera lineup. By leveraging MESSOA's proven imaging performance, local users and integrators can take full advantage of the perfect visualisation of monitored areas in high definition day and night. The clear video feeds of events and interests can be easily managed on the Seventh's versatile video management platform with its intuitive user interface and powerful IP intelligence functionalities.
"The partnership marked a giant leap for MESSOA towards fortifying its presence in South America," commented by Ervin Wang, Sales Director for MESSOA on this collaboration, "We are confident that our wide portfolio of megapixel IP cameras combined with Seventh software technologies will provide a winning combo for our customers and let us develop a stronger position in this emerging market."
Download PDF version