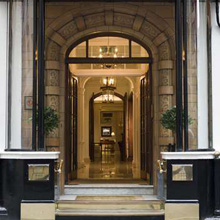 Stafford hotel got access control security solution from SALTO installed by Ansador
One of the capitals most quintessentially English hotels, The Stafford London by Kempinski, has chosen a bespoke electronic access control solution from SALTO installed by Ansador. Located in the heart of St James's, The Stafford London was originally built as a private residence in the 17th century and throughout the next two hundred years the house changed hands many times before eventually becoming a small, private hotel successively owned by various individuals and groups.

Over the years the hotel has undergone a program of continual re-investment, including a six-month closure for major refurbishment in 1996 and an annual spend of over £1 million on redecorating and replacing fabrics and furniture. The opening of the 'all suite' Stafford Mews development has contributed to the charm and understated elegance for which the hotel is renowned, and in 2010 it became part of the Kempinski Hotels collection which owns and operates an international portfolio of over 60 distinguished hotels around the world.

"As an established luxury hotel with an enviable reputation for comfort and hospitality to uphold, guest room security is something The Stafford London takes very seriously" comments Chris Saxby of Ansador, SALTO's local business partner who carried out the installation.

"During a recently completed £6 million update and refreshment at the hotel, the opportunity was taken to upgrade and improve their security arrangements, so working in consultation with the hotel owner we designed a highly secure and flexible electronic access control system for all of their individually decorated rooms and suites as well as a number of back of house doors. This consisted of 40% retro fit to exiting doors and 60% fitted to new doors using SALTO's Aelement, XS4 and GEO (Global Electronic Opening) stand alone electronic locking systems. 134 guest room doors have been fitted with Aelement, 15 back of house doors with E9450 XS4 units including 4 online doors, and 10 GEO cylinders have been installed onto the doors of the Carriage House - a unique collection of mews rooms and suites overlooking The Stafford's cobbled courtyard."
'Aelement' was the ideal choice for this project as it has been specifically designed for the hotel market, providing a fully integrated real time security solution
'
Aelement
' was the ideal choice for this project as it has been specifically designed for the hotel market, providing a fully integrated real time security solution that allows hoteliers to combine their entire guest hospitality needs into one stylish, energy efficient and reliable wire-free locking system enabling the hotel to control the security of the entire building from a single location including granting access privileges to individual rooms and gathering audit trail data from every door in real time all without leaving the front desk.
Saxby continues "
Advanced security with convenient access control are its core values enabling simple management of guest cards and doors as well as staff cards and 'back of house' doors in a single system. The backbone of the system is a series of gateways and repeaters that act as antennas, collecting and sending information from the computer server directly to the AElement wireless locks. One gateway can manage several electronic locks and repeaters, minimising infrastructure costs and maximising flexibility. It operates on a 2.4GHz wireless network over an 802.15.4 protocol and works with all popular mainstream RFID technologies including Mifare and Desfire, the latest versions of Mifare Plus and Desfire EV1, as well as standard hotel issue guest cards.
"
"
Not only that, but the locks also incorporate a double safety net feature. Thanks to their automated 'self healing' capabilities, if the RF network fails or connection is lost for any reason the locks will automatically scan for a new connection to an alternative gateway or repeater, restoring communication and maintaining security. To ensure access is never compromised the locks also incorporate SALTO's patented data-on-card SVN (SALTO Virtual Network) technology as standard. This distributes all the latest access information to the stand alone locks simply by guests and staff using their RFID cards in the hotel, ensuring all locks are kept updated and secure at all times.
"
Mr Leon Baum, General Manager of The Stafford London, said "
The security of our guests and their belongings is paramount. We chose Ansador, and through them SALTO, for their reputation as manufacturers of advanced technology security solutions for the hotel and hospitality industry and the Aelement product in particular for its sleek looks and cutting edge design.
"
"
It interfaces directly with our Micros Fidelio Property Management System (PMS) allowing us to run the hotel smoothly and securely and gives us the ability to continuously upgrade our security arrangements without having to upgrade our locks, saving us long term operating costs while providing the hotel with what it needs most total control.
"
Download PDF version