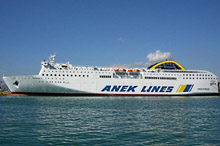 ANEK Lines Ferries' brand new state-of-the-art ship 'Elyros' deploys SALTO XS4 contactless access control system
ANEK Lines Ferries, a Crete based shipping line, has selected a SALTO XS4 contactless access control system to provide advanced security management aboard its brand new state-of-the-art ship 'Elyros'.
The company provides coastal and inter-island shipping around the Aegean and Adriatic seas. Its modern fleet of 11 vessels provide regular services for passengers, freight and tourists travelling around the myriad ports and harbours of the Greek mainland and islands. Its route network includes services to destinations such as Ancona, Trieste and Venice in Italy and Antikythira, Chania, Chios, Corfu, Igoumenitsa, Ios, Kissamos, Mytiliene, Naxos, Patras, Paros and Santorini in Greece.
"As the only marine-tailored access control system, the XS4 solution was ideal for ANEK Lines Ferries," comments Aznar Sethna, SALTO Systems Area Sales Manager Southern Europe.
"Working in consultation with ANEK we designed a highly secure and flexible access control system tailored to their exact needs that could go to sea with confidence and provide outstanding levels of security, comfort and convenience for all passenger cabin doors and other key doors throughout the ship" Sethna continues.
The 'Elyros' is the newest vessel to join the line and is a former roll-on roll-off ferry purchased from the Mol Ferry Co in Japan for approximately €30 million. Built in 1998 by Mitsubishi Heavy Industries, the ship is 192 meters long, 27 meters wide and has an in-service cruising speed of 23 knots. It can carry almost 2000 passengers and has a 2,000-lane meter parking area sufficient to transport 543 cars.
Following its delivery to Greece it went into dry dock in Kerastini for an extensive upgrade and re-building programme that cost in excess €45 million. This included adding a new deck, moving the bridge forward towards the bows and adding a new design of funnel. The interior was also completely re-designed and modernised turning it into a luxurious floating hotel that could offer outstanding accommodation and dining as well as on-board entertainment and relaxation facilities.
"As part of this major investment in turning the vessel into an ultra-modern ship equipped with all the latest technology, good security control was going to be a very important area for ANEK Lines Ferries" comments Apostolos Brisimitzakis of SALTO Systems' approved Greek distributor IILIOPOULOS S.A.
The flexible SALTO XS4 access control system can easily grow to meet ongoing security requirements at ANEK Lines Ferries
"There would be no place for mechanical keys or pin code locks. The ship would effectively be a sea-going hotel so the specification called for the latest electronic locking technology available. What was wanted was a flexible, easy to use feature rich security solution both in terms of the hardware fitted to the doors as well the software that would be required to run it".
Aznar Sethna says: "The solution chosen was the XS4 contactless system, which can support up to 64,000 doors and is fire tested and approved for 1 hour (RF60, DIN). This now ensures the highest levels of security; controlling access via contactless Mifare smart cards to over 240 guest cabins with an additional 30 fire doors controlled via staff only issued Mifare key fobs.
The XS4 system needs no hardwiring and provides a wire-free networked electronic locking solution. It uses distributed intelligence to pass information between microprocessors in the electronic handle set and the key cards and fobs and by integrating them with SALTO Virtual Network technology (SVN) both door locks, key cards and fobs can be updated, restricted or deleted remotely and access profiles changed rapidly if required adding real value to the access management of the ship."
With future expansion plans and passenger traffic growing on its route network, the flexible SALTO XS4 access control system can easily grow to meet ongoing security requirements at ANEK Lines Ferries.
Download PDF version
Download PDF version