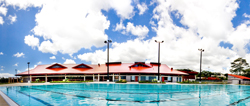 SALTO Systems has supplied a smart access control solution for the new Student Life Center at the University of Hawaii at Hilo (UH Hilo)

Home to almost 3,800 students, The University of Hawaii at Hilo is a state university established in 1947 as a branch campus of the University of Hawaii at Manoa. The school officially became a four-year baccalaureate institution to be known as UH Hilo in 1970. UH Hilo's mission is to establish itself as a comprehensive university with an emphasis on undergraduate education, selected graduate programs and applied research.
The new UH Hilo Student Life Center consists of nearly 23,000 square feet of indoor fitness and recreational rooms, a cardio and weight room, dance and aerobics rooms, a lounge with wireless internet, an indoor cafe', locker rooms, an Olympic-sized swimming pool, and an open deck area by the swimming pool.
Fitness and recreation is an important concern for many of today's college students. Since college can often be a stressful experience, more and more universities are providing opportunities for students and other members of the university community to take care of their bodies and health in addition to feeding their minds.
To ensure only accredited students and members of the university can gain admission to the new center; it is protected by a smart access control system that includes a combination of 34 networked on-line and off-line battery powered locks, panic bar interfaces and 8 13.56Mhz RFID wall reader 'hot spot' control points. The solution is fully integrated to enable it to control the entire building with the main gate, all perimeter doors and one internal door controlled by hot spots, with the remaining internal doors controlled via off-line locks. This enables staff to control all the locks in the building with one software package and one card system without the need to visit any of the locks if re-programming is required.
All components of the system are controlled via MIFARE contactless smart cards with the on-line elements interfacing with the SALTO Virtual Network (SVN) to enable the university to reduce the time needed to manage the system without any loss of functionality, flexibility, control or security.
This eliminates the problems associated with traditional 'key' control, removing the need to replace locks when security is breached due to the loss or theft of an access card. It combines on-line control points with off-line standalone locks enabling users to manage up to 60,000 users and up to 60,000 doors in the same system. It also eliminates the physical restrictions of traditional stand alone electronic locks and can seamlessly integrate with an existing access control system to allow ID cards and locks to be updated, restricted or deleted remotely.
"The solution is fully expandable for future applications and services such as multi-function student ID cards, cashless vending, library cards and parking barrier control when these are required"
And another useful function of SVN is its departmental operation. This allows each faculty at a campus to manage only their own doors and/or users, while certain other doors and users can be simultaneously shared with other faculties, for example main entrance doors etc. This provides maximum security for each faculty with the convenience and flexibility of shared control of main access points.
Commenting on the solution Chuck Hummitsch, Regional Business Manager Salto Systems Inc said: "Thanks to its modular design the SALTO access control solution is fully integrated, highly flexible and future proofed. The solution is fully expandable for future applications and services such as multi-function student ID cards, cashless vending, library cards and parking barrier control when these are required."
Lai Sha Bugado, Associate Director Administration and Operations at Campus Center University of Hawaii at Hilo, said: "UH Hilo takes the safety and security of our students and staff very seriously and we are very pleased with the system installed for us by SALTO.
We have implemented many environmentally friendly and sustainable systems in the design and operation of the new UH Hilo Student Life Center as well as the latest technologies and construction methods.
It is only the second building on the Big Island to be rated using the LEED (Leadership in Energy and Environmental Design) system and is the island's first building to be certified as a gold building. To achieve this certification, the construction team worked hard at incorporating environmentally friendly practices such as recycling waste, utilizing day lighting to reduce dependency on electricity, installing energy efficient air conditioning, and using renewable and locally produced materials.
As part of this commitment to using the latest technologies we wanted a similar state-of-the art system to handle our access control requirements. We specified SALTO as it is highly versatile and future proof enabling it to grow with us as our security needs expand. In fact we're already getting ready install it in our new pharmacy building which will have 10 hotspots and 80 networked interior door locks."
Download PDF version
Download PDF version