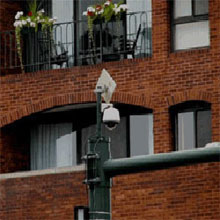 Fluidmesh 2200 mesh network spans across an area of a square mile covering all the downtown Birmingham
The Birmingham Police Department sought to install a city-wide video surveillance system. However, they needed one with extraordinary flexibility to avoid interference issue with its existing Wi-Fi system.
Solution:


"By using a direct line of site, Fluidmesh allowed us greater flexibility to place our cameras and repeaters where we needed them to be,"
said Birmingham Police Chief Richard Patterson.
Project description at a glance:


Fluidmesh Networks came through for the Birmingham Police Chief who was looking to install a video surveillance system to assist his officers during dispatch. Partnering in the spring of '07 with integration company
Abel
Electronics, Fluidmesh provided Abel with training on the technology and solid support during the installation. The system, which spans across an area of a square mile, covers all of downtown Birmingham and is running on a Fluidmesh 2200 mesh network at 5.1-5.8 and 4.9 Ghz.
The Fluidmesh engineering team designed the mesh network according to the clients' needs. It had to be laid out on a map and factors such as link distance, bandwidth, line of sight, and interferences needed to be taken into account. Because of the Fluidmesh proprietary system, the PTZ cameras have very little latency, resulting in a reliable and easy to deploy wireless network.
The
Milsk Company
, which represents Fluidmesh in Michigan found Fluidmesh to be an excellent partner in delivering reliable and cost effective wireless solutions for the public safety market.
"We tested the system of the Birmingham Police Department and were impressed by the quality of the video and the speed with which the PTZ cameras can be controlled,"
says Steve Milsk.
"It is hard to believe that you are running across a wireless network."


The networked system now serves as a critical visual aid to communicate what is going on at the location and also helps to control traffic.
Download PDF version
Download PDF version