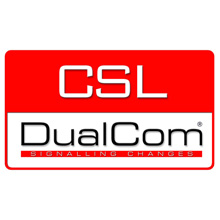 BSIA's Technical Director Alex Carmichael and CEO, provided updates on the latest security standards
CSL DualCom's fourth annual Insurance and Senior Risk Surveyor Forum held at Business Partner, Vodafone's HQ proved to be the busiest yet. Over 50 senior Insurers attended, representing 80% of the Insurance Industry. The event was a buzzing forum for debates on the latest Security Industry hot topics and developments. The board of speakers was strategically selected to cover every aspect of the Electronic Security Industry and its relationship with the Insurance Sector. The LPS1277 document has only been embraced by IP signalling providers, giving rise to speculation that open-internet signalling requires a greater level of legislative protection hence their vigour for LPS1277.
Speakers included Douglas Barnett, Head of Customer Risk Management for AXA reviewed the impact of this year's Riots on losses as well as a staunch warning on the pitfalls surrounding LPS1277 concluding with a question to the audience; with so few products approved to it to date was it actually working in the interest of the Industry or as a barrier to business?
BSIA's Technical Director Alex Carmichael and CEO James Kelly, both of whom provided updates on the latest standards including PD6662, with references to their work with ACPO in the important area of false alarm reduction. This was also an area of focus for the ARCs in attendance. Colin Walters of SMC reported that overall research had shown an increase in the use of monitored alarms and services. However, there seemed disinclination in the industry towards IP signalling and also a rise in line faults from Dual signalling systems that don't benefit from a managed network. DualCom was lauded for its performance and out-performed all other dual signalling systems.
Alan Blake, National Account Director of Secom agreed that WorldSIM and Multi network SIMs had made a great impact on signalling network availability and that there were more advanced signalling solutions available to Alarm Companies to save their clients' money. Pat Allen, Director of Abel Alarms commented on the burning issues surrounding the lack of Fire monitoring compared to intruder monitoring and the inconsistency of Fire Brigade response nationally.
Max Croot of Vodafone's M2M (machine to machine) elaborated on how Vodafone are constantly improving performance of their network, citing long term commitment to GPRS Services. He highlighted their £1m spend per day on engineering enhancement works to provide customers with superior signal strength and enhanced network resilience.
An update on the latest innovations from CSL DualCom followed with Simon Banks taking the Insurers on an in-depth tour of the Gemini Managed Network. He focused, on the benefits of WorldSIM when used in combination with the DualCom G4 and its ability to reduce line faults by 50%. The audience were particularly interested to hear about CSL DualCom's effort to encourage higher grade signalling in the marketplace by implementing a new lower pricing structure on the DualCom Grade 4 product.
Geoff Tate, CEO of the SSAIB provided a round-up on accreditations in progress, emphasising the much debated LPS1277 and its lack of status as a British or European standard. The BSIA SEMS committee chairman, Tony Allen debated the EU commission's desire for a Pan-European, one-stop certification process after the EN50/4 suite being heralded as a model for other industries, another reason that many in the industry see no need for LPS1277.
Download PDF version