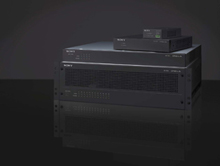 New range of hybrid encoders converts analogue signals to IP, easing transition in the video security market
Sony Professional recently announced the launch of a new encoder series. Committed to encouraging the adoption of IP technology in the video security market, the new encoders can be used to convert signals from analogue to IP enabling customers to move from analogue to IP without having to replace their existing security infrastructure. Visitors to hall 4 stand J10 at IFSEC were able to see the new network video encoders that range from the basic one-channel SNT-EX101 model to the 12 blade, 48-channel rack-mount SNT-RS3U model.
The complete range of encoders is capable of dual streaming video at 30 frames per second up to full D1 resolution in JPEG/H.264, JPEG/MPEG4 or MPEG4/H.264 configurations. This promotes much easier integration when migrating from an existing analogue camera system to an IP-based system by eliminating the need to replace the existing security infrastructure.
Moreover, the use of an ONVIF compliant interface provides interoperability and compatibility between all network video products regardless of manufacturer. This further improves integration potential and Sony hopes it will help the transition from analogue to IP formats in a market that remains 70% analogue.
The new encoders also boast significant advanced features. Intelligent motion detection, the ability to detect video loss and compatibility with PTZ cameras, will improve the management of the most demanding application environments; from education, transportation, factories, healthcare facilities to public venues and airports.
"The SNT-EX/EP range of encoders enhances Sony Professional's hybrid range of video IP security technology. With complete interoperability and dual streaming capabilities, customers can avoid the technical issues and costs traditionally associated with switching to a new system and move seamlessly to IP," explained Yu Kitamura, EMEA Product Manager, Video Security, Sony Professional.
Download PDF version