Since its foundation in 1931, Hemel Hempstead School in the UK has set a precedent for excellence in education on a national and local scale. On its campus site in the county of Hertfordshire, the school has installed 48 Sony video security cameras to monitor its corridors and outdoor areas.
Background
When looking for a new video security solution, Hemel Hempstead School made it clear that a robust video system which would offer the highest quality surveillance across key areas of its campus was required. As an open site with a lot of public footfall, it was crucial that the solution provided safety and security for staff, students and visitors, whilst remaining discreet. The installation is a step forward for the school migrating its video solution from analogue to IP cameras to future-proof its security system, delivering higher quality image technology, making it easier to use and ensuring it stands the test of time.
Challenges
Educational environments require a sturdy security solution, which offers broad coverage and the best quality images without intruding on teachers and students. The school also required a security solution which integrated into the school's buildings, but captured activity across the expanse of the campus. The solution needed to deliver all the benefits of the latest technology including quality imagery in every light condition and easy operation.
Sony solution
A Sony solution of 48 Full HD and HD Sony IP cameras were selected to monitor both inside and outside the campus. This included 23 units of discreet mini dome SNC-XM632 cameras and 25 units of IR ruggedised SNC-EM602R models. Both models are vandal resistant with IK10 and ingress protected with IP66.
Results
A fully integrated, easy to manage system has delivered comprehensive security at Hemel Hempstead School. The IPELA ENGINE™ EX and Exmor™ CMOS sensors used in Sony's cameras, paired with advanced motion detection, means that high definition recording is maintained across the challenging low-light conditions in areas of variable lighting, particularly corridors. The transition to an IP solution has created a streamlined security solution at the school, with unsightly overhead cabling between buildings removed in favour of Sony IP cameras.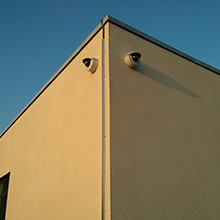 A fully integrated, easy to manage system has delivered comprehensive security at Hemel Hempstead School
Why Sony was selected
Hemel Hempstead School tasked Steve Beadle Consultancy Services Ltd with securing their open site. Part of the remit included the need for an audit trail of staff, student and visitor movements across the site. It soon became apparent that the existing analogue CCTV system was not satisfactory and expert assistance was required to transition the security solution to IP. Steve Beadle Consultancy Services Ltd entrusted Sound and Safe Ltd to design and deliver the quality security solution and thanks to the depth of Sound and Safe's industry expertise and strong partnership with Sony's reliable video security products, the company was able to seamlessly fulfil its customer's requirements. This was achieved by implementing a system which fitted across the premises, providing comprehensive video coverage throughout the site. The system not only secures the school and its students, but also protects the investment by delivering full-HD imagery at a competitive and affordable price.
Quotes
Stephen Robinson, Hemel Hempstead School Business Manager commented: "When we were looking to upgrade our security solution, we wanted a robust option which did not intrude on the daily life of our staff and students. Steve Beadle Consultancy Services worked with Sound and Safe to recommend the ultimate solution for our needs and helped navigate our way towards an IP based future. Sound and Safe recommended Sony's cameras from the outset, and since installing the solution we have been very impressed and are more than pleased with our decision to upgrade from our former analogue system. The Sony technology delivers outstanding image quality as well as a more flexible and manageable solution that supports our drive for reliable surveillance and easy to operate systems."
Jamie Merry, Sound and Safe says of the solution: "Having worked with Sony for many years, we remain impressed by the breadth and quality of its video security solutions which meet the high standards of customers across various markets. Working with Steve Beadle Consultancy Services allowed us to clearly visualise and realise Hemel Hempstead School's requirement for a discreet and robust solution. The combination of Sony's mini-dome and outdoor cameras ultimately used was the ideal option. Sony's technology has been core to delivering the briefs and migrating the latest future-proofing surveillance systems for this and many other installations."
Download PDF version
Download PDF version