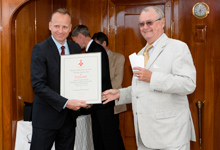 Milestone's IP software is number one in the world, five times in a row, according to IMS Research
Photo: Finn Brondum
At three o'clock on the afternoon of 14
th
June, the Danish royal ship Dannebrog was the setting for His Royal Highness Prince Henrik to hand out this year's King Frederik IX award for Excellence in Export.
Milestone Systems
CEO & President Lars Thinggaard proudly accepted this honour.
Since its founding twelve years ago, Milestone Systems has established itself as an innovative leader for the development of open platform IP network-based video surveillance software - recognised by
IMS Research
five years in a row as number one in the world in this market sector. Milestone has measured a very positive average annual growth of 40 per cent, with 94 percent of the business today via export.
"This award is of course very meaningful for our company, but also to a high degree for our customers and partners. Our channel partners are an important cornerstone in our access to the market, so the honour for the success we achieve is also shared by them. We furthermore hope that this award will make our organisation even more attractive for new partners and employees, who will join us as we continue to expand,"
says Lars Thinggaard.
Milestone Systems sells its
XProtect™ IP video management software
platform through authorised and certified partners in more than 100 countries. This eco-system of distributors, resellers, system integrators, solution specialists and manufacturer alliances are currently supported by Milestone offices in Australia, France, Germany, Italy, Japan, Singapore, Spain, UAE, UK and US.
Milestone Systems sells its XProtect IP video management software through authorised and certified partners in more than 100 countries
"We are honoured to receive this award. And it's more than just the recognition factor: it illustrates how our industry is on a growth trajectory. Milestone is helping to drive the conversion from analogue to IP surveillance technology, which presents huge potential for us - both on the home front and in markets around the globe,"
states Thinggaard.
About King Frederik the Ninth's honour award:


The King Frederik IX Award of Honour is given out with the vision to encourage, support, and expand the export of Danish goods and services internationally. The award was established November 25
th
, 1970, and is annually bestowed to companies, institutions and organisations that are registered in Denmark, as well as to Danish and foreign citizens living in Denmark who distinguish themselves with special contributions or developments for Danish exports. His Royal Highness Prince Henrik is the Chairman of this committee.
Download PDF version