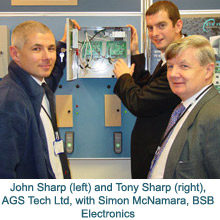 North West access control manufacturers BSB Electronics and installers AGS Tech have joined forces in a collaboration expected to bring real benefits for their respective customers.
Announcing the decision, Brett Burby, Managing Director at BSB, said, "We are very much looking forward to establishing a long term working relationship with AGS for the benefit of all our customers. AGS are experienced installers with an excellent track record for effective solutions, successful teamwork, first class client liaison at all stages of a project and have a deserved reputation for contracts that are tailored to the specific needs of their clients and end users. I'm sure that by working together we will be able to offer an outstanding service to our customers."
Welcoming this new alliance, Tony Sharp, Managing Director at AGS, said, "AGS are delighted to be working with BSB Electronics. I am very impressed with the quality and functionality of BSB's Progeny range of access control products, and the flexibility and responsiveness of their support team is well known throughout the security industry. I'm confident that together we will be able to build on the excellent reputations both companies have for working closely with our customers to make sure their needs are fully met."
Download PDF version