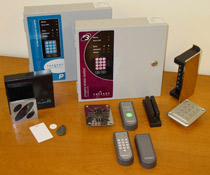 Lancashire based access control manufacturers, BSB Electronics, now offer a lifetime guarantee and support on all their Progeny products with immediate effect. The decision by Managing Director, Brett Burby, demonstrates BSB's confidence in the quality, functionality and reliability of their Progeny range.
Announcing the decision, Mr Burby said, "Our Progeny range of access control products are extremely reliable, flexible and are of an excellent build quality. Consequently we are very happy to offer this life time guarantee and support to all our Progeny customers."
BSB's industry-leading and cost-effective Progeny range provides adaptable access control solutions for all applications from small to large, and also remote sites. The range includes controllers, keyboards, readers, cards, and easy to use software.
Download PDF version