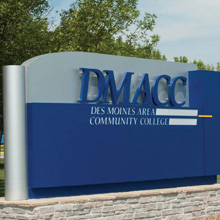 DMACC installed 45 Avigilon HD cameras ranging from 1 to 16 MP
Avigilon, a leader in high-definition (HD) and megapixel video surveillance solutions, recently announced that Des Moines Area Community College (DMACC) in Iowa has deployed the Avigilon high-definition surveillance system to prevent unlawful activity, and boost student and staff safety. With close to 75,000 credit and non-credit students and 3,000 staff spread across six campuses, 48 buildings, and 1.4 million square feet, DMACC can pre-empt unlawful activity and boost student safety with the Avigilon high-definition surveillance system's superior image quality, advanced management features, scalability, and ease-of-use.
"All American colleges are required to report crime data on an annual basis and while we currently enjoy a low crime rate, we know we are not immune to the threats that have plagued other colleges across the country," said Ned Miller, director of Campus Safety and Emergency Management at DMACC. "With the Avigilon high-definition surveillance system in place, we can resolve incidents quickly and provide a safe campus environment for students and staff by providing usable, high-quality, and accessible surveillance video."
During the first phase of deployment, DMACC designed the network infrastructure needed to effectively run the Avigilon Control Center network video management software (NVMS) with High-Definition Stream Management (HDSM) technology. DMACC also installed 45 Avigilon HD cameras ranging from 1 to 16MP to monitor high traffic areas and parking lots at the Ankeny, Urban, and West campuses, and plans to add another 400 cameras over the next couple of years. The college relies on 25 Avigilon analog video encoders to improve the performance of its existing analog-based cameras. DMACC stores up to 30 days of continuous surveillance video and monitors the system around-the-clock. The security management team remotely monitors the system from their desktops, laptops, or iPads using Avigilon Control Center Mobile.
Leveraging the advanced management features of Avigilon Control Center software, DMACC can find event details 10 times faster than before. Using Avigilon's graphic-mapping interface, the College can view footage in real time, enhancing the team's ability to respond quickly and appropriately with up-to-date information. By recommending a system configuration that better met DMACC's needs, Avigilon met image quality requirements and reduced system costs by 15 percent. With no recurring licensing fees, Avigilon saves the College $12,000 annually. The College uses the Avigilon high-definition surveillance system to resolve liability claims and improve campus traffic flow, especially during the first two weeks of school when student parking becomes a real challenge. DMACC also uses the system to confirm that the campus is being properly maintained, particularly during the winter to ensure proper snow removal and salting.
"Part of Des Moines Area Community College's long-term program to provide the safest campus experience possible includes the deployment of high-definition video surveillance solutions," said Keith Marett, vice-president of marketing and communications at Avigilon. "With its superior image quality, advanced management features, and user-friendly interface, the Avigilon high-definition surveillance system has become a strategic tool to dramatically reduce crime."
Download PDF version