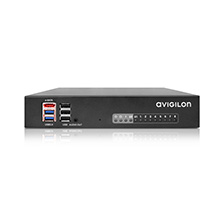 The HD video appliance combines a PoE network switch along with full video management server
SourceSecurity.com recently attended Avigilon's Video Analytics launch event at the High Commission of Canada in London to discover more about the latest additions to the company's product portfolio.
The event began with a presentation by Mark Buckland, Regional Sales Manager at Avigilon, on the benefits of the latest product in the analytics range, the HD Video Appliance Series. The appliance, which combines a Power-over-Ethernet (PoE) network switch along with a full video management server and client software capabilities, offers full viewing and system administration in a single compact form factor.
The HD Video Appliance is powered by Avigilon Control Center (ACC) which comes pre-installed and configured to provide immediate benefits, including intelligent bandwidth, storage management and faster search times.
Buckland discussed how the innovative features of the HD Video Appliance series mean it is ideal for small and medium-sized businesses as well as larger enterprises. The 8-port model is suitable for small-scale video surveillance, while the HD Video Appliance Pro 16- and 24-port models offer a comprehensive platform for mid- to large-sized applications.
In terms of storage, the HD Video Appliance series provides maximum flexibility. The appliance offers up to 12 TB of RAID 5 storage and supports a wide range of camera resolutions, including Avigilon's HD Pro camera series. The appliance is not only compatible with Avigilon cameras but also with third-party IP cameras and backwards compatible with analogue cameras. This flexibility is further emphasised by the unit's capability of being used as a standalone installation or as part of a multi-site configuration using the enterprise-level features of ACC's open platform.
The integrated self-learning adaptive analytics solution means cameras automatically adapt to scene changes without the need for manual calibration
Brian Karas, Applications Engineer – Video Analytics at Avigilon, gave an overview of the advantages offered by the company's adaptive analytics technology, which is now embedded in its HD Dome and Bullet camera. The technology is a result of the ongoing integration between VideoIQ and Avigilon products following the former's acquisition by Avigilon in January this year.
The integrated self-learning adaptive analytics solution means cameras automatically adapt to scene changes without the need for manual calibration, facilitating easy installation and delivering a new level of performance. The cameras are available in 1, 2 and 3 MP resolutions and are fully integrated with the latest version of the ACC 5.4 software, enabling more than just monitoring, search and recording of video analytic events, but also complete analytics configuration and management. The ability to detect people and vehicles instantly via an alert system means users can pre-empt criminal activity and detect intervene before a crime is committed.
Karas explained the many applications where Avigilon's adaptive analytics solution can be of benefit. In hospitals, for example, Karas said the technology can be used to detect loitering outside of entrances and in staff parking lots out of hours as well as detect a lack of staff activity in critical areas. Other examples of relevant applications include in public areas, schools and car dealerships.
The presentation was rounded off with a reiteration of the reliability and cost-effectiveness of Avigilon's adaptive analytics. Karas said investing in Avigilon's intelligent technology means false alarms are a rarity and the distance covered by the cameras is much greater than many other devices on the market. Importantly, the cameras can also be installed alongside existing cameras to update existing systems and increase coverage and efficiency, he added.
Download PDF version
Download PDF version