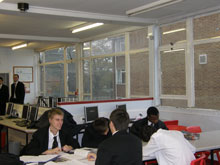 Myrasys video surveillance solution protects Campion School

Challenge
The Campion School needed an easy to use solution to identify and monitor their visitors. Students leaving the premises without clearance had also become a growing problem.
Solution
For a future proof investment, the scalable Mirasys V series with remote viewing possibilities was installed together with Arecont cameras. The installation was made by Classwatch.
Results
The property and assets of Campion School are now protected and they have an effective way to monitor the visitors. Active promotion of the use of video surveillance cut rowdiness and mischievous behaviour such as smoking short.
Schools are ideal environments for video surveillance systems. Whether the school's security challenges consist of truancy, theft, vandalism or maintaining secure facilities, a good surveillance system can help push the focus of a school towards education. Video surveillance also enhances student safety and better protects valuable assets.
The Campion School in Hornchurch, Essex, UK, installed Mirasys video surveillance in 2007. The Campion School is a Catholic Science College, founded in 1962. The school admits only boys in the main school (age 11-16) but has admitted a growing number of girls to the Sixth Form each year. More than 1200 students attend The Campion School.
Proper access control for visitors
"We turned to video surveillance primarily because we needed an effective way to monitor visitors," explains Marilyn Clay, Business Manager at The Campion School. "Now we can quickly and easily register visitors and we know exactly who is where on our premises at any time during the day. We also had some problems with students leaving the premises without clearance, but Mirasys video surveillance has helped us to eliminate this problem," adds Mrs Clay. To place security cameras at the entrance doors and parking lots in educational institutions is an easy way to help the administrative staff to monitor the visitors and ensure they are properly signed in, while still allowing the students to move freely around the campus.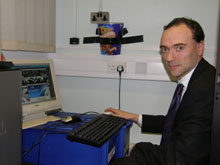 Video surveillance acts as a powerful deterrent against vandalism, such as broken windows and graffiti
Powerful deterrent against vandalism
Video surveillance acts as a powerful deterrent against vandalism, such as broken windows and graffiti. "This type of vandalism may not make headlines but the costs from repairing and cleaning mount up over the years, eroding budgets and taking money away from other investments, " explains Andrew Jenkins from Classwatch, which provided The Campion School with Mirasys video surveillance.
"Regarding misbehaviour, we are lucky to have such well-behaving students," says Mrs Clay. "However, if needed, recorded video can be used to provide clear evidence in disciplinary situations. We are now able to see both sides of the story if a dispute arises". Video surveillance can also successfully discourage common student misdemeanours such as smoking, bullying, rowdiness and truancy.
Swift and smooth installation
Mirasys V series was installed at The Campion School together with IP and analogue PTZ cameras and two Arecont 8 Megapixel 360? cameras. The megapixel cameras offer panoramic views and cinema compatible high frame rates. "An AV8306 camera can substitute up to 24 analogue cameras, thereby reducing the cost of installation," explains Mr Jenkins.
Mirasys solutions are easy to expand with more cameras and integrate with other systems and devices and thus a future-proof investment. "We are planning to expand the system in the near future," tells who has overseen the installation.
"The beauty of the system is that Mirasys V series supports both analogue and digital surveillance cameras," explains Mr Jenkins. The standard V series DVR can be enhanced to become a hybrid DVR/NVR system by adding network camera channels to the basic unit. "In this way legacy products can still be used and new cameras can, if required, be added one by one".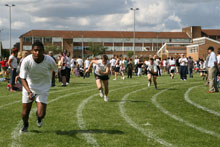 The significant advantage of the Mirasys network video system is that viewing can be done from anywhere over the Internet
"The installation was really swift and smooth," praises Mr Reynolds. "The Mirasys software is so easy and intuitive so it only took me 10 minutes to learn how to use it! The system practically takes care of itself; I only look at the recordings if there has been an incident. The reliability of the system is remarkable and the quality of the images is incredible".
All Mirasys V series user interfaces are designed with usability as the utmost concern. The interfaces are designed from the users' perspectives to match ways of using software and security equipment to which they are already accustomed.
Local recording - Remote Management
The significant advantage of the Mirasys network video system is that viewing can be done remotely from anywhere over LAN, WAN or the Internet as well as from several different locations simultaneously. PC's with a web browser or installed client software can retrieve images from any of the cameras in the system, based on their user access rights. "Once installed, this will be a very beneficial feature for us," says Mr Reynolds. "For example, if there is an incident during weekends or holidays, we can check the situation remotely and then take action. It will also allow us to keep track of activities from home out of hours".
The school grounds are secured
Video surveillance is an effective way to protect premises from threats to property and assets. "We are pleased to have our sports facilities, such as the gym, our indoor sports hall and swimming pool monitored," reports Mrs Clay.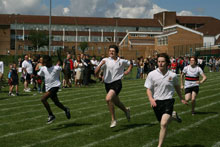 Video surveillance is an effective way to protect premises from threats to property and assets

"We also have a big ballroom here at the school and it is frequently used for parties and other events during evenings and weekends. We can now ensure the safety of these events, our assets and the persons attending via Mirasys video surveillance," continues Clay. "It is also important to make sure everybody leaves after these events, and we are now able to keep an eye on the entire place even without having to physically walk around".
"We have actively promoted both in the school and on the premises that we are now using video surveillance and things have gone quiet. We are really happy with the system. We know now that our personnel, students, premises and assets are protected, it gives us peace of mind," concludes a very happy Mrs Clay.
Download PDF version