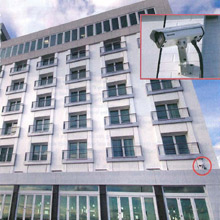 Allegria Hotel and Spa tries to maintain highest levels of safety and security
Running a hotel is a complicated business; there's a reason why hospitality management is a course of study at many dedicated schools and institutions of higher learning. Besides all the staffing issues across a broad spectrum of services and attending to a multitude of guest needs, you must also ensure the safety and security of all involved. And if your location is a beachfront resort on Long Island, it's magnified even more.
That's the challenge for the owners and operators of New York's nine-story Allegria Hotel and Spa, a brand new luxury retreat located adjacent to the famous Long Beach boardwalk. "With 143 rooms and thousands of guests staying with us during the year, we try to maintain the highest level of safety and security for our guests and staff," says Mark LaHood, general manager for the hotel.
Just as an upscale hotel like the Allegria must make certain its first-rate accommodations are upheld, so too must it make it a high priority to keep its security measures updated. With the well being of occupants and visitors as well as its reputation at stake, the venue placed its faith in Woodside, N.Y.-based Centennial Security Integration inc. (CSI) to install its brand new video surveillance system. CSI, a hospitality specialist, worked with other trades to design and install a solution involving 75+ cameras during reconstruction of a former seven-story condominium complex.
Hotels prove hospitable
Founded in 2004 as Total Security and renamed a year later as Centennial Security Integration Inc., CSI has evolved into a high-end systems integrator that installs IP video surveillance cameras and monitoring systems in New York's finest hotels. The company also installs access control, building intercom systems, biometrics, and intrusion/fire alarm solutions in commercial and residential facilities throughout the tri-state area.
An upscale hotel must make it a high priority to keep its security measures updated
"At CSI, one of our main objectives is safeguarding major New York hotels and their guests by replacing legacy security systems with cutting-edge IP video technology," says Brian Valenza, president/COO. "The CSI team has acquired an outstanding reputation in the hospitality industry and continues building relationships and a level of trust with hotel management."
CSI, which has 800+ accounts overall, was able to add the Allegria Hotel and Spa to its growing list of hospitality clientele after the combination of its sterling track record and bid won over the facility's stakeholders. "The hotel was referred to us based on our outstanding reputation dealing with IP video surveillance solutions in the hotel industry. We submitted a bid for the job, and won," says Velenza.
IP offers feature suite
CSI contracted with Allegria - which opened in September and includes 112 guestrooms, 31 luxury suites, a restaurant and bar, a 200-seat ballroom, three meeting rooms, a fitness centre, a roof-top spa and pool, and a ground-level retail outlet - in November 2008. "We knew what we wanted and CSI was able to provide us with what we needed to meet our objectives," says LaHood. Along with change order items, the project was wrapped up within just one month.
Since the entire wiring infrastructure was being installed from scratch, the client wanted to take advantage of the opportunity to implement the latest in IP video surveillance throughout the hotel.
CSI designed a separate, parallel network for security functionality. The copper runs consisted of Cat-6 cabling to accommodate the IP cameras and monitoring stations, allowing for future system growth as well as bandwidth demands exceeding IGB. In addition, fibre optics was run to serve as the system's backbone.
The end user desired a fully network-based solution that would be flexible and scalable, and offer superior playback quality with the ability to utilise megapixel technology. To achieve that, CSI deployed an OnSSI-based system with a Pivot3 storage solution and Sony, Arecont and Axis cameras.
The end user desired a fully network-based solution that would offer superior playback quality with the ability to utilise megapixel technology
The OnSSI NetDVMS platform allows large numbers of cameras to be displayed across multiple monitors with multiple views. Adjustments to those views can be done quickly with the click of a mouse. Pivot3's RAIGE storage array provides redundant storage and expansion capability.
More than 75 fixed Sony cameras were installed throughout the public access areas of the hotel. "Because of their robust feature sets and image clarity, the cameras are ideally suited to applications like the Allegria Hotel and Spa," says Miguel Lazatin, a Sony marketing manager. "The SNC-DS10 indoor dome and SNC-CS50N can dual stream at 30 frames per second, and include intelligent motion detection that analyses 15 previous frames of data."
Whereas conventional video motion detection analyses just one previous frame, Sony's technology is designed so the cameras can ignore environmental noise such as rustling leaves, water and camera shaking. This ultimately reduces the amount of false triggers sent to the recording server.
Three- and 5-megapixel cameras from Arecont Vision were installed that use H.264 compression to stream video, thereby minimising bandwidth consumption for high-definition video. Arecont's proprietary technology is said to reduce the computational processing demands typically associated with transmitting H.264 megapixel video at high frames rates.
So as not to intrude on the décor of the Allegria's contemporary reception desk and lobby area, Axis 209MFD cameras were installed. The flat, discreet network camera is specifically designed for non-invasive video surveillance.
All of the hotel's IP cameras support power over Ethernet (PoE), adding to the ease of installation. The IP solution includes multiple viewing stations and redundant storage. The system is monitored from a central location on LCD displays.
The client wanted to implement the latest in IP video surveillance throughout the hotel
"The equipment provided by CSI came from the highest quality manufacturers and allowed us peace of mind because the equipment installed is backed by extensive warranties and a superb manufacturer track record," says LaHood. "We were surprised how easy the system is to operate and monitor. The technology is fantastic."
No room for error
When working with a newly built hotel as it prepares for guests and services an installing systems integrator faces numerous scheduling, discretionary and architectural challenges. Reconciling similar deadlines but different goals and work schedules among multiple contractors during the construction of the hotel added to the challenges. The security project's short timeframe (August to September 2009) made matters even more taxing.
Most of the specific installation hitches were associated with complications in the locations and ceiling or wall surfaces of mounting certain cameras. For example, a low ceiling on guest floors made it necessary to position some cameras off to one side so as to not obstruct beds, carts, tall guests, etc.
Valenza shares another setback: "The lobby ceiling was constructed of an elastic, rubber-like material that suspends a few inches from the ceiling itself, which made mounting a camera directly to the material impossible. A custom mounting bracket had to be designed and installed that extended through the suspended ceiling."
On another occasion, it became apparent that some of the exterior walls were covered by a stucco-like substance with sponge-like properties. This made it impractical to mount a standard camera enclosure. After some trial and error, a dome with special extended bolts proved to be the answer.
Throughout the project, CSI closely coordinated its efforts with the hotel's staff as well as Design Communications Inc. (DCI), its communications and network partner, to tackle potential problems before they arose. This allowed CSI to avoid installation delays and avert any disruption to hotel construction, operations or services.
All of the hotel's IP cameras support power over Ethernet (PoE), adding to the ease of installation
"Contractors were constantly on ladders and in transit through the hotel and the surrounding areas. Our security and operations staff worked closely with CSI to coordinate schedules around the hotel's construction plan," says LaHood. "CSI excelled during this phase by utilizing a large workforce that worked around our schedule to complete 90 percent of the physical installation in just a few days."
Integrator earns 5-star rating
As soon as the system was operational it was already helping the hotel safeguard staff, guests and visitors, as well as mitigate incidents. After a successful grand opening this past September, the hotel was immediately hosting banquets and sold-out nights that increased the potential for incidents.
"The new video surveillance solution not only gave the security staff video footage of minor incidents brought to their attention by guests, but also offered management a tool for supervising and training the new staff to ensure the highest level of customer service is achieved." says LaHood.
Future plans include expanding the system and also adding visual and audible triggers. According to Valenza, CSI and the solution have exceeded the Allegria's expectations. Listening to LaHood tell it, he may be too humble.
"We are extremely satisfied with CSI and the video surveillance system installed," he says. "CSI has excelled in every aspect of the project and has completed system add-ons in addition to the base project originally under contract. CSI has been one of the most professional, competent, and customer service-oriented companies we have had the pleasure of working with."
Now that sounds like first-rate accommodations indeed.
Download PDF version
Download PDF version