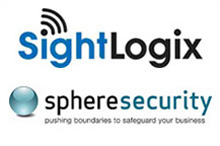 Sphere Security and SightLogix announce their plan to expand UK market opportunities
Sphere Security
and
SightLogix®,
Inc. jointly announced that the two companies have entered into a reseller partnership. SightLogix, a US-based manufacturer, will be supplying its
automated outdoor surveillance
camera solutions for
perimeter security
and critical infrastructure applications to Sphere Security, one of the UK's leading security system integrators. The agreement will create additional new business development opportunities for Sphere Security with public and private organizations that need to protect large perimeters and campus sites, while extending market penetration of SightLogix' unique product suite in the UK.
"Sphere Security is always looking for exceptional products to expand our portfolio of integrated security solutions," said Nigel Sperring, Managing Director, Sphere Security. "SightLogix' automated outdoor surveillance camera solutions are complementary to our existing security portfolio and we are looking forward to working with them. With this agreement, Sphere Security will strengthen its offering to customers who have critical infrastructure sites such as ports, utilities and private estates. These customers will benefit by safeguarding their business with an IP-enabled security system specifically designed to enhance outdoor physical security and protection."
SightLogix' combination of edge-based video analytics, long and wide area coverage, and geo-spatial target tracking provide reliable and cost-effective intrusion detection for large outdoor areas. When a SightLogix camera detects a target that violates a user-defined security policy, the camera provides the precise Geographical Information System (GIS)-based target location to the host video management control platform.
SightLogix automated outdoor surveillance camera solutions have been deployed in many locations around the globe for a wide variety of industries including utility, transportation, energy, chemical, information technology, public safety and defence. With their long range and greater detection accuracy, SightLogix SightSensors™ can reduce the overall cost of infrastructure and storage by as much as one-third that of alternative outdoor surveillance approaches.
This reseller agreement enhances the extensive portfolio of integrated security solutions and services offered by Sphere Security, who have unrivalled technical knowledge of IP network architectures and the project management expertise to deliver best-in-breed technology. By offering SightLogix's unique automated outdoor surveillance cameras, Sphere Security is able to deliver an integrated perimeter security system solution that accurately detects intrusions over large areas, revealing activities that otherwise may go undetected. Technical and operational personnel at Sphere Security will undertake intensive training from SightLogix' experienced staff.
"Sphere Security is well known for their security expertise in the UK market," said Dan Hearn, Vice President of Sales, SightLogix. "We are confident that this partnership will help both companies further expand market penetration and growth in this critical region."
Download PDF version