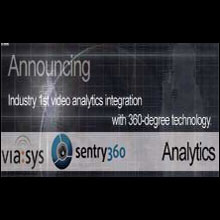 A partnership has formed with Sentry360 and Viasys to deliver 360° Intelligent video surveillance
Sentry360, a leading developer of advanced multi-megapixel surveillance cameras, has entered into a technology partnership with Viasys, a premiere provider of advanced video analytics dedicated to perimeter protection and intruder detection.

"We have successfully bridged the gap between intelligent video and limited field-of-view cameras", says Thomas Carnevale, President of Sentry360. Video Analytics are a great source of providing instant alarms of specific detection, but has always been limited to a specific focal length and field-of-view. Thomas adds: "Now, with the integration between Viasys' video analytics and Sentry360′s cameras, we're empowering 360-degrees of intelligent video with NO blind-spots and no moving parts. We really think this is what intelligent video was meant for.What's the point of having video analytics if the limited view
is only seeing a small portion of the overall environment?"

Viasys features a highly optimised, low-bandwidth communication protocol which is the result of the company's world leadership in the protection of solar power plants. These green energy sites are often very remote with only basic network connections that feed to the central monitoring stations. Because of this, a complete alarming solution was born with a focus on low bandwidth and low resource usage.

"We are excited about combining two highly focused and unique market approaches for even more customer benefit." says Dirk Owerfeldt, COO and co-founder of Viasys. "Our positioning to deliver a simple, reliable, and affordable solution - anytime and anywhere - fits perfectly to the Sentry360 FullSight approach, enabling analytics to see the whole picture."

The new Intelligent Pro Series FullSight cameras will deliver resolutions from 3 - 10 megapixels and have Sentry 360′s corrected perspective de-warping and panoramic algorithm coordinated with the Viasys video analytics. The camera will be able to perform multiple simultaneous rule based video analytics delivering complete situational awareness. The major features of this integration are adaptive outdoor analytics like electronic fence, trip-wire, sabotage detection, directional recognition and 3D video awareness, which make Viasys analytics with Sentry360 FullSight cameras the optimal solution for all platforms.
Download PDF version