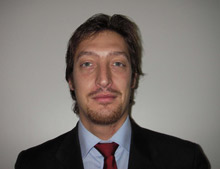 SENKOADL has appointed a European sales representative to promote the company's range of IR-adjusted fixed, varifocal and zoom lenses.
Stefano Ulliana, 33, hails from Milan. Stefano speaks English, French and Spanish as well as his native Italian. He has come across to CCTV from a background in ethical sales within the medical sector and sees many parallels between the two markets.
Stefano said, "I'm looking forward to the challenge and expect to gain business for SenkoADL in the UK, France, Italy and Benelux as well as Eastern Europe. The range of lenses is broad and we are receiving exceptional feedback on projects where the units are being used at high-profile sites."
He continued, "Recent applications of our lenses cover traffic, education and transport both in the UK and Europe."
Having just moved to England, Stefano lists assembly of flat pack furniture as among his leisure activities. But being a keen hiker, he is looking forward to exploring Surrey wood and downland from his base in Oxted.
Download PDF version
Download PDF version