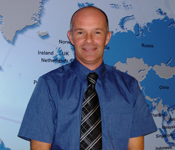 Bosch Security Systems has appointed Mick Gates to the newly created position as Sales Executive specifically responsible for intruder security systems. The new role has been established to give added focus and direction to the intruder element of Bosch's offering and Mick will be responsible for supporting the company's sales drive in this important area.

Mick is well qualified for the position, with more than 25 years experience working within the industry, having started as an Installation Engineer before becoming a Service Engineer for Britannia Security Systems. Mick moved into the sales arena about 15 years ago, working for Shorrock Security and since then has worked for ADT as a Sales Surveyor. He has spent the last three years as an Account Manager for the South East at Cooper Security.

Commenting on his appointment Mick said: "Bosch is well respected within the industry for not only being a key manufacturer for top quality security and communications installations but also for maximising client satisfaction and retention. I am very pleased to be working for a company with such advanced and reliable products underpinned by knowledgeable technical and customer service teams."
More on Bosch Security Systems
Download PDF version
Download PDF version