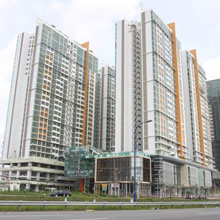 Bosch surveillance cameras are in operation to detect movement and protect people and property
With 750 modern apartments spread over five 28-storey buildings, Vietnam's first luxury residential project, the Vista in Ho Chi Minh City, is the result of investments totalling US$200 million. The developers turned to Bosch Security Systems when it came to ensuring the occupants' safety and the premise's facilities. The latter includes 35,000 square metres of retail space, a 50-metre pool and a modern clubhouse boasting a steam bath, spa and sauna, a gymnasium, putting green and a tennis court.
"The project has set high standards in terms of its design, and these are naturally reflected in the security requirements", says Terence Ng, General Man-ager, Bosch Security Systems Indochina.
At The Vista, Bosch surveillance cameras are in operation to detect movement and so protect people and property. An audible alarm warns of intruders entering a restricted area, and the sound is loud enough to be heard over a large distance. In addition, the integrated Public Address system informs the relevant occupants that an unauthorised person may be in the area. The alarm thus serves a two-fold purpose: it announces when a zone is in danger and can further help in capturing the intruder.
To facilitate round-the-clock surveillance throughout the complex, Bosch installed 56 vandal-resistant IR Dome cameras, three AutoDome Series day/night PTZ cameras, and 15 of the LTC Series cameras. These are backed by the latest high-resolution, high-performance LCD monitors from the UML range, coupled with seven digital video recorders. Alongside this CCTV system, no fewer than 800 LHM and general-purpose ceiling loudspeakers were integrated to allow for clear emergency messaging and Public Address announcements. Finally, Bosch installed more than 200 of the highly-efficient LBC horn loudspeakers, as these provide excellent speech reproduction and sound distribution for a number of outdoor applications.
With this reliable security solution supplied by Bosch, the Vista occupants can relax in their luxuriant surroundings, knowing they are in a completely safe environment. One which other developer are likely to refer to in future.
Download PDF version